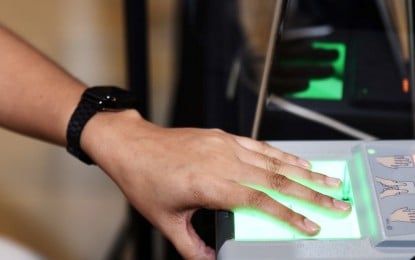 MANILA – Newborn babies, overseas Filipinos, and resident aliens in the country are included in the registration for the Philippine Identification System (PhilSys), an official of the Philippine Statistics Authority (PSA) said Thursday.
In a Laging Handa public briefing, PSA Undersecretary Rosalinda Bautista said they are targeting to register about 70 million Filipinos in the Step 1 PhilSys process and 50 million in Step 2 by end of this year.
"Para sa mga bagong silang na sanggol, kasama sila sa registration, kasi wala tayong ini-exclude na Pilipino para sa registration pati 'yung ating mga kapwa Pilipino who are abroad (For the newborn babies, they are included in the registration because we are not excluding anyone in registration, even those Filipinos abroad), including those who are residents alien in the Philippines," she said.
PSA, the lead implementing agency for the PhilSys project, reported that more than 43.2 million individuals have already completed the Step 1 process, as of October 8, which involves the collection of demographic profiles that can be done through PhilSys online portal https://register.philsys.gov.ph/.
As of October 6, the PSA has already captured the biometrics of more than 34.99 million Filipinos in Step 2 PhilSys process, which is done in various registration sites nationwide.
Over 2.2 million have already received their physical Philippine Identification (PhilID) cards as of September 30, she said.
Bautista said the PSA targets to distribute at least 15 million PhilID cards nationwide via its official courier partner Philippine Postal Corporation within this year.
Apart from the online portal, Bautista said the PSA field offices continue to hold mobile registration processes at the barangay level, to assist those who do not have access to digital registration.
She added that PhilSys applicants may directly proceed to the Step 2 process, once the Step 1 mobile registration process is available in their area.
Bautista appealed for patience to the public as some registration sites are implementing strict health protocols to prevent the Covid-19 transmission.
"So far, our priority right now is the adult population," she said, noting that the current health situation is slightly slowing down the registration processes.
She added the PSA is just waiting for the approval of its request to the Inter-Agency Task Force for the Management of Emerging Infectious Diseases (IATF-EID) to allow those ages below 18 years old to sign up at the PhilSys registration sites amid the pandemic.
"While we have requested na payagan ang IATF ang below 18 but above 60, may mga lugar na ipainagbabawal pa rin lumabas yung ganung category ng edad (While we have requested the IATF to allow those below 18 years old and above 60, the movement of this age category is still prohibited in some areas)," she said.
PhilSys registration for minors
Bautista said parents or guardians of children aged five to 15 should accompany them to the PhilSys registration centers.
Once registered, children should have to undergo recapture of biometrics when they reached 15 years old.
Since children below five years old are yet to develop their biometric capture, the PSA will only collect their demographic characteristics and photograph for PhilSys registration.
This information will be linked to their parents' 12-digit PhilSys number (PSN).
Bautista said they are still developing a concept of registration for newborn babies.
She said the PSA is mulling for an automatic PhilSys registration of newborn babies directly from the health facilities which include saving of their demographic characteristics.
"Tapos pag na-register na siya sa civil registrar ay doon naman natin kukunin for the corresponding issuance for the Step 2 process, although ang biometric capture ay picture lang at wala pang iris at mga fingerprints scan (We will collect their profile once they are registered in the civil registrar for the corresponding issuance for the Step 2 process, although biometric capture only involves the use of picture because they don't have iris and fingerprints scan yet)," Bautista explained.
Bautista urged the public to only visit the PSA's official PhilSys website and social media accounts, to get more reliable information related to acquiring the PhilID cards.
"Kasi magsa-submit sila ng information kaya importante na nandun sila sa tamang website (Because they will submit all their information, so it is important that they are on the official website)," she said, noting that people should become vigilant against identity fraud.
Bautista reminded anew that PhilSys registration, from Step 1 to Step 3, remains free of charge.
Signed into law by President Rodrigo Duterte in August 2018, Republic Act 11055, or the Philippine Identification System Act, aims to establish a single national ID for all Filipinos and resident aliens.
The national ID shall be a valid proof of identity that shall be a means of simplifying public and private transactions, enrolment in schools, and the opening of bank accounts.
It will also boost efficiency, especially in dealing with government services where people will only need to present the PhilID during transactions. (PNA)