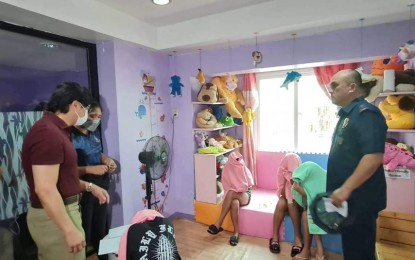 MANILA – Police officers rescued 13 minors who are victims of cybersex operations in Manila on Thursday, the Department of the Interior and Local Government (DILG) said on Friday.
DILG Secretary Benjamin Abalos Jr. and National Capital Region Police Office (NCRPO) chief Brig. Gen. Jonnel Estomo led the entrapment in the city's Sampaloc district which led to the minors' rescue.
The operation also resulted in the arrest of two alleged sex traffickers who were brought to the Philippine National Police (PNP) Women and Children Protection Center for documentation and proper disposition.
One of the suspects was identified as 18-year-old Nazarene Joy Nodado while the other one is a minor.
In a statement, Abalos said the administration of President Ferdinand R. Marcos Jr. strongly condemns cyberpornography and other illegal activities, particularly those that victimize children and minors.
"These kinds of crimes are very disturbing, and the worst of its kind as they target and victimize innocent children. The impact of cybersex crimes on children have long-term effects on them and oftentimes, ruin their lives," he added.
Last month, the DILG, together with the Department of Social Welfare and Development, the Department of Justice, and the Department of Information and Communications Technology forged a united front against the proliferation of cybersex crimes.
"We have to take seriously this kind of crimes preying on our children online and end sexual exploitation by strengthening our campaign against cyberporn and providing them safe space online, now that they are more exposed to activities done virtually in light of the restrictions brought by the pandemic," Abalos said.
He also urged the public to report suspected child predators and any suspicious activities to the DILG or the PNP hotline. (PNA)