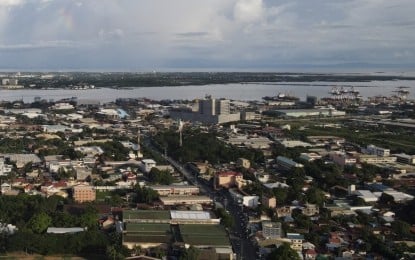 CEBU CITY – The Cebu City Police Office (CCPO) has recommended to the Emergency Operations Office (EOC) to put villages with a high rate of infection under "granular lockdown" in view of a new surge in coronavirus disease 2019 (Covid-19) cases in this capital city.
Lt. Col. Wilbert Parilla, CCPO deputy chief for operations, said in a press briefing Monday that Barangay Guadalupe is particularly considered an area of concern due to the resurgence of active coronavirus infections.
He cited the Department of Health's Sunday bulletin which showed 118 new infections detected in this city over the weekend, along with 66 new recoveries, which brought the total active cases to 1,440.
A social media post of the Emergency Response Team showed that out of the 118 new cases, 117 are residents of Guadalupe village, with 41 out of 82 sub-villages (purok) affected by infections.
Last April 6, Guadalupe, which is the largest village here, registered 48 cases; 58 on July 7; 72 on July 12; and 80 on July 15.
"We will coordinate with the barangay council of Guadalupe and the chief of Guadalupe Police Station so that we can assist and support them on how to put back granular lockdown," Parilla said.
The city police, he said, has been coordinating with the EOC in identifying the infected residents so that health authorities can conduct contact tracing and put them in proper patient care centers for isolation and prevent further contagion.
The EOC reported a total of 15 Covid-19 deaths in Barangay Guadalupe alone just for the month of July. Parilla noted that the new casualties were not senior citizens but younger, although the ages were not specified.
DOH-7 regional director Jaime Bernadas on Monday confirmed a surge in Covid-19 cases in the cities of Cebu, Mandaue and Lapu-Lapu, and urged their respective local government units to ramp up coronavirus surveillance, contact tracing, isolation and treatment.
"I am urging the residents in the tri-cities to prevent the spread by observing minimum health protocols and avoid congregating in huge crowds. If they have symptoms of Covid-19, they must seek consultation and proper isolation procedures should be followed," Bernadas said in a press briefing.
He also urged jeepney drivers to strictly implement barriers between passengers to prevent coronavirus transmission in public transportation.
Meanwhile, Parilla also advised villagers to refrain from conducting super-spreader activities such as "tigbakay" or unlicensed cockfighting, which can be a potential cause of Covid-19 transmission.
"They know that tigbakay is illegal because they have no license. But the IATF (Inter-Agency Task Force for the Management of Emerging Infectious Diseases) does not allow even the legally-owned cockpit arena to operate due to the pandemic," he said. (PNA)