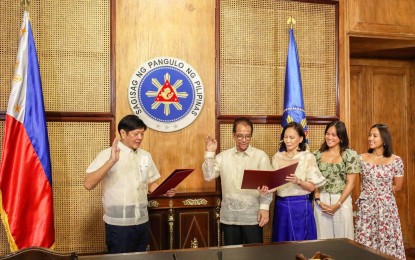 MANILA – The appointment of entrepreneur Jose "Jerry" Acuzar as the new head of the Department of Human Settlements and Urban Development (DHSUD) will provide a "huge boost" to the housing sector.
Assistant Secretary Melissa Aradanas, the Officer-in-Charge prior to Acuzar's appointment, said the DHSUD is optimistic that the secretary will improve further the human settlement policies and programs in the country.
President Ferdinand "Bongbong" Marcos Jr. administered the oath of office to Acuzar at Malacañang on Friday.
He succeeded Eduardo del Rosario, who las led the DHSUD since its inception in 2019.
"With his long experience and successful background in the real estate industry, I am very optimistic that DHSUD is in good hands," Aradanas said in a text message on Sunday.
Acuzar, who hails from Balanga, Bataan, is involved in several infrastructure projects in the country.
He toiled as a cutter-welder in his older brother's iron workshop while completing a vocational course in drafting at the Bataan National School of Arts and Trades, now the Bataan Peninsula State University.
He obtained his bachelor's degree in Architecture from the Technological Institute of the Philippines in Manila.
Acuzar established the New San Jose Builders, Inc.,now one of the country's largest developers.
"This success can undoubtedly be owed to the leadership and performance-based and hands-on management style of Secretary Acuzar," DHSUD said in a statement. "Rest assured, Secretary Jerry, that the One DHSUD Family will be all-out in supporting your leadership." (PNA)