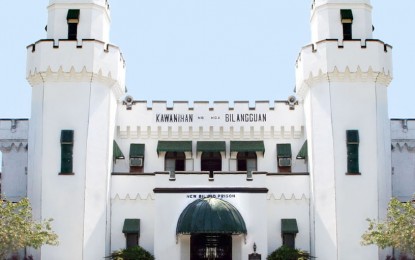 MANILA – The sweet taste of freedom finally came for 371 persons deprived of liberty (PDL) who were released Monday, even as the Department of Justice (DOJ) also submitted the names of 300 other PDLs to Malacañang for the possible grant of executive clemency.
"The 371 released were a result of the DOJ and Bureau of Corrections' (Bucor) computation (of time served) with the help of Public Attorney's Office (PAO) lawyers," DOJ spokesperson Mico Clavano told reporters.
Clavano said DOJ Secretary Crispin "Boying" Remulla, PAO Chief Persida Rueda-Acosta, and Bucor Director General Gerald Bantag "collaborated to make this possible. Today, 300 more are up for executive clemency."
The 240 majority of the 371 PDLs released already served their maximum sentence, 98 qualified for parole, while 31 were acquitted and two qualified for probation.
At least 191 PDLs, were from the New Bilibid Prison (NBP) in Muntinlupa, 37 from the Correctional Institute for Women (CIW), while 143 PDLs came from other prison and penal facilities run by the Bucor.
Forty-five including four women were senior citizens.
Remulla, who has announced the prisons' decongestion as a top priority of his office personally visited the NBP.
"Marahil ito na ang biggest mega prison sa buong mundo, dito po sa Bilibid Wala na ho ganitong pasilidad sa ibang bansa kundi dito na lang na ganito karami ang nakapiit (This may be the largest mega prison in the world. There may be no other facility with this number of inmates)," he said.
Remulla said consultants place the ideal capacity of NBP at 2,500 individuals. "Ang average acceptable (sa) correction facility, pupwede raw ay hanggang 2,500 lamang ang laman. Mahigit sampung ulit nun ang nandito sa New Bilibid Prisons (The ideal number in a prison facility is around 2,500. We have more than 10 times that number here in Bilibid)," he said.
Remulla said subsequent release of qualified PDLs will follow in the following months. "Ito ay simula pa lamang ng programang ito. Hindi po ito katapusan. Gusto ko po kung papalarin tayo sa October may batch ulit, sa November may batch ulit, at sa pasko ay may isang batch ulit (This is just the beginning, we plan to release PDLs in the coming months. If we get lucky, there will be a batch of PDLs to be released in October, another batch in November, and another batch by Christmas)," he said.
Remulla said they are eyeing the possible digitalization of inmates' "carpetas" or prison records.
"We are trying to digitalize the carpeta system so all the information will be under fingertips para hindi na natin kailangan mag-research pa. Daily kailangan yan mag-ping, sabihin sa yo itong taong ito pwede na palayain (so we won't need to research and manually compute, there would be daily pings informing when a person is due for release). We're trying to work that out," he said.
Acosta, meanwhile, said the plan is to grant clemency to up to 3,000 qualified PDLs by the end of the year.
"Ang target namin hanggang December 2,000 to 3,000 (Our target until December is 2,000 to 3,000," she said. (PNA)