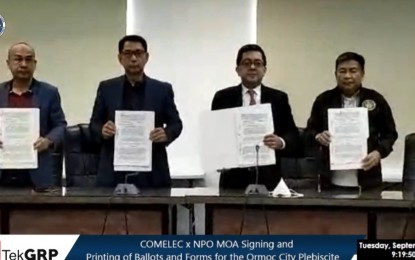 MANILA – The official ballots for the Dec. 5 Barangay and Sangguniang Kabataan Elections (BSKE) will have a special feature that is solely for the forthcoming polls.
Comelec chairperson George Erwin Garcia said they will be including serial numbers on the ballots.
"Meaning, it's like in our money (serial numbers) increasing in size. Small to large numbers. This is a security feature. Therefore, nobody can just make these ballots," he said in a press briefing on Tuesday, shortly after the signing of the memorandum of agreement between the poll body and the National Printing Office (NPO) for the printing of ballots for the Ormoc City plebiscite.
"In printing, it is really impossible to make an ascending number like in our currency. Only the NPO can print numbers like this and Central Bank. That's how secure the ballots that will be used in the BSKE," the poll body chief added.
He noted that the special feature has no additional cost to the commission since it is already included in their proposed budget.
On the other hand, Garcia said they expect to finish printing the over 90 million in a little over a month including the verification of the ballots.
"The NPO has committed all its personnel and all its available machines so they can complete at least 3 million ballots per day. On average, 3 million a day, then that's 90 million ballots in one month. Verification will take about five days," he added.
Garcia also reported that there were papers that were not used in the last polls, which can be used to print the ballots for BSKE.
"For us to save money, (we will check) if these papers can still be used for purposes of printing 20 million ballots of the 92 million ballots," he said.
Garcia added that NPO offered them storage service for the ballots.
"Instead of the ballots being brought out of the compound of the NPO, they can just store the same at a conducive temperature, instead of looking for other places or other warehouses. Therefore, we are expecting second week of November, we will be able to start shipping all the ballots and election paraphernalia," the poll body head added.
The printing of the BSKE ballots is set to start on Wednesday.