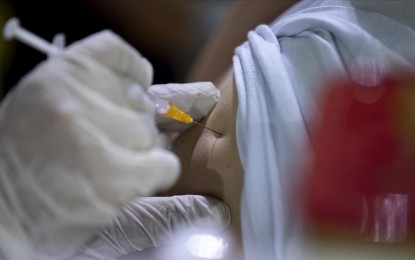 MANILA – The Quezon City government on Wednesday urged anew all qualified residents to get vaccinated against the coronavirus disease 2019 (Covid-19) following reports that most infected patients who were hospitalized are unvaccinated while none among those vaccinated became critical.
Mayor Joy Belmonte said the data provided by the City Epidemiology and Disease Surveillance Unit (CESU) clearly shows that Covid-19 vaccines are safe and effective.
Belmonte said the CESU report showed that out of the 8,159 total active cases from Aug. 8 to 21, some 70 percent or 5,735 are found to be unvaccinated against Covid-19.
Meanwhile, 18 percent or 1,416 of those hospitalized are already fully vaccinated.
The remaining 12 percent or 1,008 patients are considered partially vaccinated, having received their first dose of the vaccine.
"This review of our data greatly proves that our vaccines work regardless of the brand. By releasing this information, we can inspire and encourage more of our QC residents and workers to register in our vaccination program," Belmonte said.
According to the CESU report, 4,619 of those unvaccinated patients are asymptomatic, 1,012 are mild, 74 are moderate, and 10 are severe, while 20 died from Aug. 8 to 21.
Among the fully vaccinated patients, 1,031 are asymptomatic, 349 are mild, 33 are moderate, and none of them in critical condition. Three senior citizens who have comorbidities died.
CESU Head Dr. Rolando Cruz said the data only prove that the Covid-19 vaccines do their work and provide protection from contracting severe Covid-19 infection.
"These vaccines continue to be highly effective in preventing hospitalization of confirmed COVID-19 patients. We have seen that patients who are fully vaccinated are asymptomatic and thus can undergo isolation in facilities only, which also lessens the burden of our hospitals,' Cruz said.
Individuals who want to register and be scheduled for the Covid-19 vaccine may do so through the QC Vax Easy portal that can be accessed via qceservices.quezoncity.gov.ph or they may also go to their respective barangays.
As of 8 a.m. Wednesday, the city government said a total of 2,271,833 Covid-19 vaccine doses have already been administered with 708,279 individuals already fully vaccinated. (PNA)