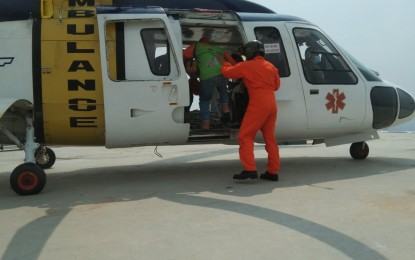 MANILA – Some 96 civilians trapped in the burning Mega Tower residential building in Mandaluyong City were rescued by an S-76A helicopter from the 505th Search-and-Rescue Group on Thursday.
Armed Forces of the Philippines (AFP) public affairs office chief Navy Capt. Jonathan Zata said the Philippine Air Force (PAF) helicopter conducted "15 shuttle flights to rescue these civilians" who were airlifted from the rooftop of the burning building in Barangay Highway Hills, Mandaluyong City.
These people were transported to the rooftop of SM Mega Mall for safety, Zata said.
The fire broke out at around 10:26 a.m. and was declared fire out around 3:50 p.m., Mandaluyong City fire marshal Supt. Alberto De Baguio said.
Investigators are still determining the cause of the fire and the extent of the damage. (with reports from Lloyd Caliwan/PNA)