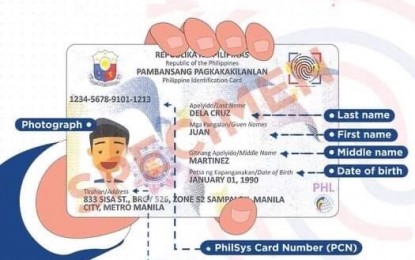 MANILA – The Philippine Statistics Authority (PSA) is currently working on the development of a mobile version of the Philippine Identification (PhilID) or the national ID, PSA Undersecretary Rosalinda Bautista announced on Wednesday.
Bautista said the Philippine Identification System (PhilSys) team is targeting to launch the mobile PhilID early next year.
She said any PhilSys registrant may avail of the mobile PhilID by linking the generated 12-digit PhilSys Number (PSN) to the mobile ID version, which is expected to operate the following year.
The PSN can be acquired after the completion of three Steps of the PhilSys registration process.
Step 1 involves the collection of demographic information such as full name, gender, date, and place of birth, blood type, and address -- that can be accessed via portal https://register.philsys.gov.ph.
The validation of supporting documents and the capture of biometric information will be done in Step 2.
Step 3 will be the delivery of PhilSys Number (PSN) and PhilID to the owner's home address.
Bautista said the PhilID, which contains all records collected and encoded in PhilSys Registry Office, remains a non-transferable card even if its mobile version becomes available.
"So, this is the project that the PSA is working on and we hope to be able to launch it very soon. We are targeting to have this mobile ID by early next year," she said.
The PSA assured that layers of security features will also be included in the development of mobile PhilID.
Signed into law by President Rodrigo Duterte in August 2018, Republic Act 11055, or the Philippine Identification System Act, aims to establish a single national ID for all Filipinos and resident aliens.
The national ID shall be a valid proof of identity that shall be a means of simplifying public and private transactions, enrollment in schools, and opening of bank accounts.
It will also boost efficiency, especially in dealing with government services where people will only need to present one ID during transactions. (PNA)