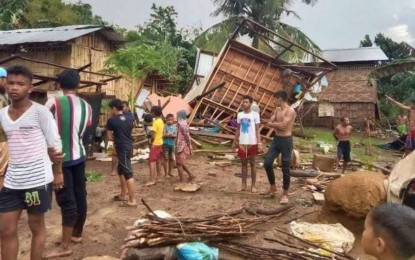 KABACAN, North Cotabato – Some 50 families heavily affected by a cyclone that hit remote Barangay Pisan here on Tuesday afternoon have received emergency assistance from the town government.
David Don Saure, the municipal disaster risk reduction and management office (MDRRMO) chief, said Wednesday that a heavy rainfall, coupled with strong winds that generated a cyclone, struck the village at 3 p.m. that caused damages to houses and forced families to evacuate on safer grounds.
"Our team swiftly deployed in the area to assess the damage and to deliver goods to affected families until Tuesday night," he said.
Saure said the initial assessment by the MDRMMO showed that nine houses were flattened by the cyclone, but the number might increase as validation is ongoing.
He also confirmed the injury of a senior citizen who was hit by a flying object and was given immediate medical treatment.
He said food packs were immediately distributed to families that contained rice, water, noodles, and canned goods.
"Some house building materials were also distributed to the affected families to repair their homes," Saure said.
He said cyclones caused by extreme weather conditions usually occur in their town but Tuesday's whirlwind was the most devastating so far this year.
"Cyclones usually occur here but in farmlands away from houses and only causes minimal damage, but not like this one that ripped through Pisan Village," Saure said.
The provincial government has sent personnel and equipment to augment the town's disaster team in restoration efforts at the calamity-affected village. (PNA)