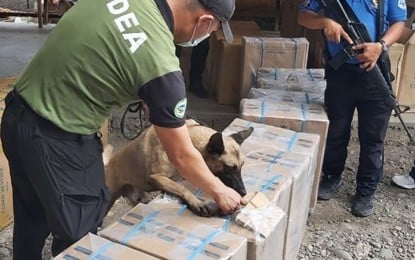 ZAMBOANGA CITY – Policemen and Bureau of Customs (BOC) operatives here seized some PHP4.7 million worth of smuggled cigarettes and arrested eight suspects, a top police official announced Saturday.
Col. Rexmel Reyes, Zamboanga City Police Office (ZCPO), said the 2nd City Mobile Force Company and BOC operatives were on seaborne patrol when they intercepted two motorboats around 1 p.m. Friday near Manalipa Island, east of this city.
Reyes said the motorboats, locally known as jungkong, were found to be loaded with 137 master cases of assorted smuggled cigarettes worth PHP4,795,000.
"The two motorboats came from Jolo, Sulu and were reportedly bound for Cotabato," Reyes said in his report to Brig. Gen Ronaldo Genaro Ylagan, the Director of Police Regional Office-9.
Reyes said one of the two motorboats, Az-Zhahir, was manned by a five-man crew composed of Sublaiman Kahal Hali, 22; Nurhusin Nadduha Habi, 28; Abdilsa Allus Ottok, 22; Nasri Habi Kayeh, 27; and, Saniboy Kahal Habi, 17, all of Lantawan, Basilan.
Az-Zhahir was carrying 48 master cases of San Marino cigarettes, five master cases of Union, and 34 master cases of Cannon cigarettes.
Barangay Talon-talon residents Minajar Alaji Nawadi, 34; Kennedy Aliuddin Nawadi, 41; and, Epik Nawadi Alli were on the other motorboat, MF/V Mernalyn-2, that carried master cases of Fort (34) and Cannon (16) cigarettes.
Operatives from the Philippine Drug Enforcement Agency conducted visual inspection and paneling on the confiscated items but found no presence of illegal drugs.
All the confiscated cigarettes, the two motorboats, and crewmen were turned over to the BOC. (PNA)