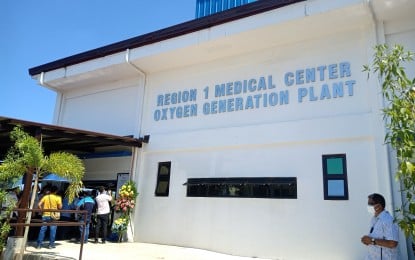 DAGUPAN CITY – The Region 1 Medical Center (R1MC) here now has its own oxygen generation plant that can fill up 350 oxygen cylinder tanks every 10 hours.
"It is a very important facility especially now with the coronavirus disease 2019 (Covid-19) pandemic. If we lack the supply of oxygen, the patients will suffer so we are glad we have this oxygen generation plant," R1MC chief Dr. Joseph Roland Mejia said in an interview on Wednesday.
Mejia said the project was supposed to be completed and inaugurated two years ago but was delayed but timely for the rising need for oxygen tanks amid the pandemic.
"With support from the Department of Health (DOH) central office and regional office, we now have this plant with a license from the Food and Drug Administration," he added.
Mejia said about PHP65 million was allotted for the construction of the building as well as procurement of machines and equipment, including the backup generator, two oxygen separators, among others.
"We might offer oxygen tanks at a lower price for other hospitals if the supply exceeds the demand of R1MC," he added.
The formal inauguration was held on October 27 attended by national and local government officials, including DOH Assistant Secretary Elmer Punzalan, although the plant was operational several weeks ago.(PNA)