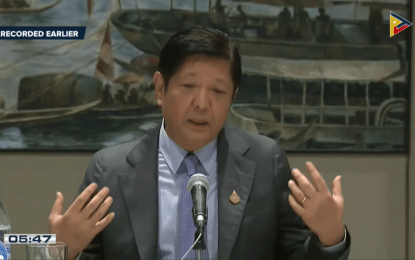 MANILA — President Ferdinand R. Marcos Jr. on Saturday pushed for diplomatic solutions to address the ongoing conflict between Russia and Ukraine.
"We have to stop the fighting and we have to move on to diplomacy," Marcos said in a press conference following his participation in the 29th Asia-Pacific Economic Cooperation (APEC) Summit in Bangkok, Thailand.
Marcos made the remark after 21 member economies of the APEC issued a statement with most of them condemning the Russia-Ukraine crisis.
The joint declaration adopted by APEC members said the war in Ukraine is "causing immense human suffering and exacerbating existing fragilities in the global economy."
While most APEC leaders condemned the ongoing war, Marcos said there were others who expressed different assessments of the situation and sanctions.
As for the Philippines, Marcos said, it will uphold its policy of "enemy to none, friend to all."
Marcos renewed his call for a peaceful resolution, as he acknowledged that the effects of the Russia-Ukraine conflict "are so far-reaching and profound to the detriment of many economies and the food supply of everyone in the world."
"I kept reminding everyone that our foreign policy is based on national interest and peace. That's our guide. And I think people understand this very well. The 'enemy to none, friend to all' policy still applies. We are maintaining that," he said.
"However, war is unacceptable and we ask all parties involved, there were several speeches that I made, urging that peace be brought back to Ukraine and that the confrontation be brought to the diplomatic space," Marcos added.
The Russia-Ukraine war has impacted the energy and food markets and caused severe civilian harm and left millions with limited access to food, water, and other necessities. (PNA)