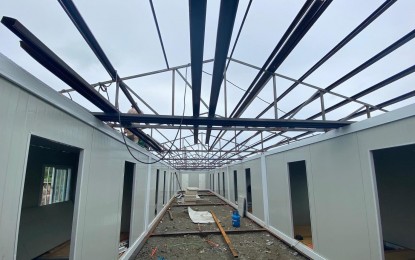 CEBU CITY – The Department of Public Works and Highways (DPWH) will construct a 200-bed capacity modular hospital worth PHP250-million to augment existing public and private hospitals here overwhelmed with patients amid the rise in coronavirus disease 2019 (Covid-19) cases.
Engr. Edgar Tabacon, DPWH-7 director, said the agency has responded to the request of acting Mayor Michael Rama to build a modular hospital to cater to patients with severe to critical symptoms of Covid-19.
"Actually, DPWH Secretary Mark Villar has quickly responded to the need to expand our hospitals in Cebu because of a spike of Covid-19. The department will implement this in line with our emergency response program. This time, we don't construct isolation or quarantine facility anymore but we will give modular hospitals as an extension to the existing government hospitals," Tabacon told the Philippine News Agency in an interview.
Hospitals that are managed either by the Department of Health (DOH) or local government units (LGU) that are already swamped with Covid-19 or respiratory-related illnesses can be supplemented with this modular-type temporary structure.
Tabacon said the city has offered the NOAH Complex II at the South Road Properties as the venue of the 200-bed capacity modular hospital.
The city has now an existing city-run Cebu City Medical Center which has existing officials and staff who may be tasked to oversee the modular hospital.
Tabacon said the modular hospital will have the same profile as that of quarantine facilities they built at the height of the pandemic but with a "much bigger room with a hallway designed to have a free-flowing ventilation system to prevent stagnant air and air-conditioned wards".
The PHP250-million budget allocated for this temporary medical facility will also be used to develop the site where it will be constructed, the road network, lighting system as well as the generator set, he said.
He said the city nodular hospital can be finished by one and a half months from the start of construction.
"I thank Secretary Villar for this initiative. It's part of the DPWH's commitment to helping the national government and LGUs in combating Covid-19," he said.
In a press briefing on Wednesday, Rama told reporters that he requested a modular hospital that can accommodate 200 patients to address the problem of lack of hospital beds as Covid-19 cases are increasing every day.
As of Monday, Level 1 hospitals in the city have 65 ICU-bed capacity but are already full, 91 percent of Covid-19 ward beds are occupied already and 65 percent of isolation beds have been occupied.
Level 1 hospitals here have a 12 combined total number of ICU beds but only one remaining as all 11 beds are occupied, eight Covid-19 beds are available from the 76 beds for Covid-19 patients while 15 of the 72 isolations beds are still available.
In Level 2 hospitals, 114 out of 130 ICU beds are occupied, 79 out of 98 ward beds are used up but 96 isolation beds are still available.
The DOH-7 bulletin reported that Cebu City has 4,274 active Covid-19 infections as 272 new infections were logged as of Tuesday, with 83 new recoveries and 17 fatalities. (PNA)