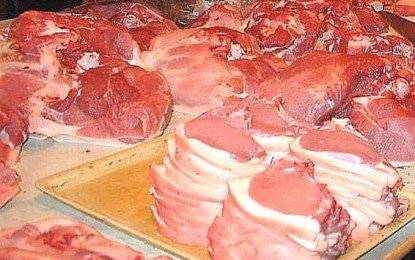 BAGUIO CITY – The city council has approved an ordinance prescribing standards for all meat shops and stores.
Councilor Philian Weygan-Allan, author of Ordinance 87-2021, said on Friday the measure seeks to ensure that beef and pork products sold to residents are clean and that vendors observe sanitation, environment, and consumer protection standards.
She said the local ordinance complies with national consumer and meat standards such as Republic Act No. 9296 or the Consumer Act of the Philippines, Republic Act 10611 known as the Food Safety Act of 2013, and the Department of Agriculture Administrative Order Numbers 5 and 6 series of 2012.
These laws provide for the proper and sanitary handling and selling of meat and meat products in markets and slaughterhouses.
She said the ordinance went through very rigorous consultation and study, reaching 14 indorsements in the city council, at least three invitations in the city council, and numerous focus group discussions with vendors, the National Meat Inspection Commission (NMIC), Department of Agriculture (DA), and the city veterinary office.
Weygan-Allan said the ordinance was passed by the council in its regular session last August 16 after its first reading in February this year.
It was already transmitted to the office of Mayor Benjamin Magalong for approval.
The proposed ordinance requires a specific size for the meat shop, the tabletop to be used, material and make of the shop's flooring and walls, the partitions, paint color to be used, and space for buyers inside the shop.
The measure emphasized that the meat must also be separately displayed from the fish and poultry products.
"Floors and walls should be made of impervious materials. All floors shall be kept clean and preferably dry at all times. Interior walls and partitions shall be made of impervious and non-toxic materials that are easily cleaned and disinfected," the proposed ordinance stated.
The proposal also has sanitation requirements like the presence of adequate supply of potable water; proper disposal of sewage to a sewerage system or compliance with Chapter XVII (Sewage Collection and Disposal, Excreta Disposal and Drainage) of the Code of Sanitation of the Philippines; availability of a sewer line from toilets and urinals that disposes of the cleaning refuse; provision of floor drains and grease traps; and installation of a proper drainage system and sanitary hand-washing facilities. It also requires compliance to zoning, hygiene, electrical and lighting, solid waste management, hygiene, and food handling and packaging.
The ordinance's standard requirements will also apply to all meat vendors and meat dealers in the city market, satellite markets, retail stores and supermarkets, and other vending modalities in the territorial boundaries of the city.
With meat shops and sellers already in the trade, the owners of existing meat shops and meat stalls are given three years to fully comply with the prescribed standard requirements. (PNA)