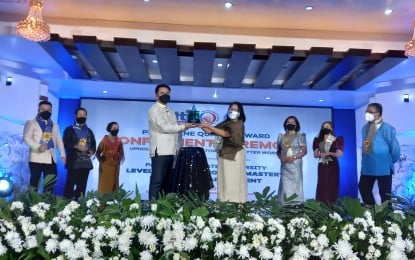 LINGAYEN, Pangasinan – The Department of Trade and Industry (DTI) on Friday awarded the Pangasinan State University (PSU) with the Philippine Quality Award (PQA) Level 3 or Recognition for Mastery Quality Management for providing quality service to stakeholders.
DTI Competitiveness Bureau director Lilian Salonga, in his message during the ceremony, said the award is given only to institutions whose performances are comparable to those who have leading businesses abroad that are exerting conscious effort to be competitive.
"PQA means being the best of the best. That's what you are. The recognition shows your perseverance to provide quality service to your stakeholders," she said.
She added that the recognition is an affirmation of the effort and dedication of the PSU management and the entire workforce and the culture of quality in the organization.
"The award is now etched in the history of PQA and PSU for we are the very first educational institution, both public and private, to be accorded the highest recognition and commendation across the country. Considering our humble beginnings, then putting PSU on this pedestal is full of an impossible dream given our limited resources," said PSU President Dexter Buted in his acceptance speech.
He said they were not able to get the award in 2018 due to one non-complied requirement.
Buted received the award on behalf of the PSU's 1,270 employees and 31,884 students.
The formal conferment of the award to PSU will be held on November 25 by President Rodrigo Duterte.
According to the DTI, the PQA is the highest level of national recognition for exemplary organizational performance that was institutionalized through Republic Act 9013 signed by former President Gloria Macapagal Arroyo in 2001. (PNA)