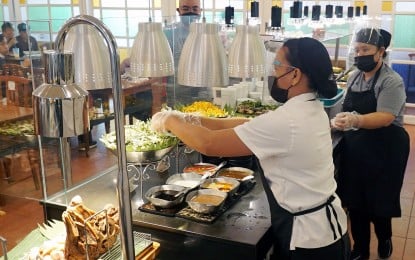 MANILA – There is a legal basis for some establishments to require their employees to get vaccinated against coronavirus disease 2019 (Covid-19), the Department of Labor and Employment (DOLE) said on Thursday.
Secretary Silvestre Bello III said these include restaurants and spas.
"The legal basis of restaurants and spas and other similar establishments is the resolution of the IATF (Inter-Agency Task Force for the Management of Emerging Infectious Diseases)," Bello said in a text message to reporters.
In Resolution No. 138 dated Sept. 9, the IATF adopted the use of the Alert Level System for coronavirus disease 2019 (Covid-19) with each alert level limiting restrictions only to identified high-risk activities.
It also approved the guidelines on the pilot of the measure in the National Capital Region, which started on September 16.
Restaurants and spas are among businesses that fall under the 3Cs (Closed, Crowded, and Close Contact) principle, which means the possibility of Covid-19 transmission in these establishments is high, prompting the need for individuals working and going to these places to be fully vaccinated.
Asked if a similar establishment has to vaccinate all employees before reopening, Bello said, "That is correct."
He, however, reiterated that there is still no legal basis for mandatory Covid-19 vaccination for all workers.
"There is still no legal basis for mandatory vaccination for all workers. The IATF resolution issued is for a few businesses. Like restaurants and spas, they are allowed to offer in dine-in services or in-person services provided that employees are vaccinated," Bello added.
Meanwhile, he said the hiring of an employee is solely upon the prerogative of an employer.
"Before hiring, there is no employer-employee relationship. As to whether you can be employed, that is the privilege of the employer. For example, it says 'wanted 25 years old with pleasing personality. If you don't have a pleasing personality, you can be denied," he added. (PNA)