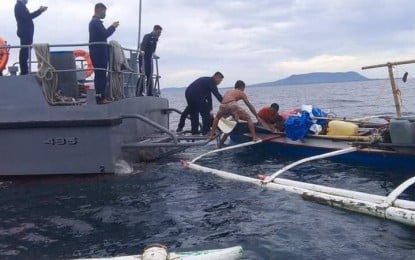 ZAMBOANGA CITY – Seventeen people were rescued off Sulu Sea by the Naval Task Group (NTG) - Sulu on Thursday and Friday after their wooden vessel capsized amid inclement weather due to localized thunderstorms. Two others, however, died.
Rear Adm. Toribio Adaci, Naval Forces Western Mindanao (NFWM) commander, reported on Saturday that the victims were rescued one nautical mile northeast off of Bakungan Island, Patikul; Sitio Undanan, Barangay Kan Bulak, Luuk; and Tambanan Island, Luuk.
Col. Hernanie Songao, NTG-Sulu and 4th Marine Brigade commander, said they received a call Thursday from a civilian, who reported that the motor launch, M/L Putli Dahiran, was in distress off Bangas Island in Panglima Tahil.
The vessel, which came from Jolo, reportedly lost power and was drifting.
The NTG-Sulu dispatched the BA-485 multi-purpose attack craft to conduct search and rescue operations.
Along the way, the BA-485 spotted capsized the jungkong-type "Friendly" at about 8:35 p.m., one nautical mile northeast off Bakungan Island in Patikul.
Three people, identified as Amasher Abirin, 38; Wahid Isa, 40; and, Alkramier Unding, 1, who said they have been at sea for at least two hours, were rescued.
"Friendly", with 19 passengers, was traveling to Jolo from Port Holland, Maluso in Basilan province when it capsized after being battered by big waves and strong winds.
Twelve other passengers were rescued at about 5:30 a.m. Friday after two fishermen, Usman Amman and Sharahan Amman, reported seeing them near the shores of Sitio Undanan, Barangay Kan Bulak, Luuk.
They were Kalma Hassan, 43; Rosalyn Marajan Unding, 27; Jomar Said, 27; Nadzrin Morajan, 16; Marsida Sarahan, 36; Shermalyn Hamsanain, 36; Pirusa Basri, 39; Adilina Cuadra, 41; Gloria Jumaadil, 15; Jidy Sangkula, 56; Misha Radjuli, 29; and, Nadjara Aramin, 7.
Two others, Nijar Aribin, 34, and Jaime Lopez, 45, were later rescued but Suhula Radjuli, 70, and Sitti Kalasahan Radjuli, 33, were already dead when found off Tambanan Island, also in Luuk, at about 8:30 a.m. Friday.

Meanwhile, M/L Putli Dahiran revived its engine and was assisted by local fishermen in getting to the port of Bangas Island in Hadji Panglima Tahil town.
All 17 were brought to the NTG-Sulu and 4th Marine Brigade headquarters in Luuk for medical attention and Covid-19 screening.
They were later turned over to the Provincial Disaster Risk Reduction and Management Office (PDRRMO) and the Ministry of Social Welfare and Development.
"The collaborative efforts of the sailors and Marines under NTG-Sulu and 4th Marine Brigade, as well as the cooperation of the locals contributed to the rescue," PDRRMO chief Jlkipli Ahijon said in a statement. (PNA)