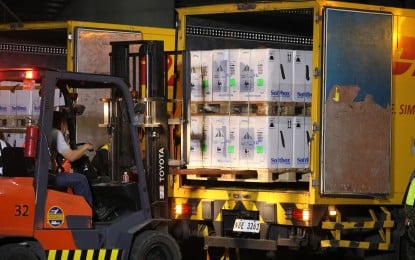 MANILA – The Philippines is expected to reach its immediate goal of having 100 million doses of Covid-19 vaccines in its inventory Thursday night with the delivery of more Pfizer and AstraZeneca vaccines.
A shipment of 976,950 doses of Pfizer vaccine arrived around 8:45 p.m. Wednesday via DHL Flight LD456, the initial from a total of 2.92 million Pfizer government-procured doses that are scheduled to arrive in the country over the next few days.
The latest delivery brings the country's total vaccine inventory to 98,655,290 doses since the life-saving shots started arriving in February.
On October 28, two vaccine deliveries are expected to arrive. A total of 896,000 AstraZeneca vaccine doses donated by Japan are set to arrive at 12:30 p.m. and another 976,950 doses of Pfizer at 9:20 p.m.
Vaccine czar Secretary Carlito Galvez and Claire Bea, unit chief of US Embassy's Environment, Science, Technology and Health, personally received the shipment Wednesday.
Galvez said the latest delivery is expected to boost "consumer confidence" in Covid-19 vaccines as the country starts to roll out its vaccination program for minors in more than a hundred hospitals throughout the country.
The Pfizer vaccine expected to arrive Thursday night was government-procured, financed by the Asian Development Bank.
Bea said the United States was "very pleased" in working with the Philippines to facilitate finance deals and cooperation with US firms. "We are very excited that US firms are playing such a large role in bringing vaccines to the Philippines," Bea said. "This is a huge milestone, a hundred dosages received means more than 50 million Filipinos protected against Covid-19." (PNA)