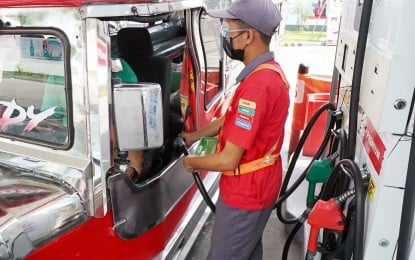 MANILA – A leader of the House of Representatives on Wednesday thumbed down the "politically expedient" solution of either suspending or trimming the excise tax on petroleum amid rising pump prices, as it would be "economically disastrous".
Deputy Speaker Bernadette Herrera said the national government budgets this 2021, 2022, and 2023 would be dependent on the approximately PHP100 billion per year in excise tax on petroleum.
"Suspending or trimming that excise tax even for just three months would be fiscally unwise and possibly economically disastrous, given the fact there is no international oil crisis now nor expected in the months ahead," Herrera said.
Herrera said instead of shaving part of that excise tax on petroleum, the more prudent solution is a combination of fixes that improves supply flows, increases local buffer stocks, removes customs fees and hauling charges, and issues purchase discount vouchers to the poor and low-income consumers.
She said the Tax Reform for Acceleration and Inclusion (TRAIN) law has several safety net provisions which can be used to cushion consumer price increases.
"Suspending or trimming the excise tax should be considered a last resort under economic emergency situations," she said.
She suggested that the new Pantawid Pasada program be expanded to include commuter tricycles and "last mile" freight forwarders.
She said the PHP1-billion budget the Development Budget Coordination Committee (DBCC) recently gave for public utility jeepney (PUJ) drivers driving legit PUJ units is only about PHP5,000 per driver for 178,000 drivers.
She proposed another PHP2 billion to be added to the Pantawid Pasada, as well as the implementation of a conditional amnesty program wherein PUJ units must pass roadworthiness and anti-smoke belching checks or be exchanged for new units under the PUJ modernization program.
She said there should also be a Pantawid Kuryente program for households consuming up to 200 kilowatt per hour (kwh) a month.
"For the long term, a combination of wind and solar solutions, a strategic national fuel reserve and a modified oil price stabilization fund would be a much better solution than removing the excise tax on fuel and building and operating nuclear power plants," she said.
Earlier, the Department of Finance (DOF) and the National Economic and Development Authority opposed the recommendation of suspending the excise tax on petroleum products despite the rising oil prices.
The DOF said should the excise tax on petroleum products be suspended, the government stands to lose PHP131.4 billion in revenues -- PHP24.7 billion in excise revenues and PHP106.7 billion in incremental revenues under the TRAIN Law. (PNA)