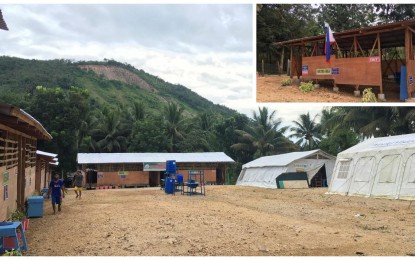 MAKILALA, North Cotabato – A quake-stricken primary school in remote Barangay Bato here has been chosen by the North Cotabato Schools Division (NCSB) to pilot the face-to-face (F2F) classes in the province set on November 15.
Cristy Arbis, the principal of Bato Elementary School (BES), said they are almost done complying with all the requirements on the learning materials and facilities needed for the F2F classes.
"We are now at 80 percent in our preparations for the upcoming opening of classes," she said.
The school has a total of 184 enrollees and from that number, 114 will undergo the F2F classes -- all from Kindergarten to Grade 3.
Each grade level has an average of 18 pupils, divided into two batches and meeting for four to six hours, twice a week.
"Personal interactions between teachers and these learners are essential as they build the foundation of their future," Arbis said, adding that the F2F will be done alternatingly with module-based home learning.
According to Arbis, compliance with health protocols on disinfection, washing facility, and physical distancing will be strictly followed.
"Except for F2F teachers and students, nobody is allowed to enter the school premises including guardians," she said.
She added that all teachers had been administered with their first dose of the Covid-19 vaccine.
Temporary learning shelters
According to Arbis, the town's local school board has augmented its funds for the completion of the BES temporary learning shelters that will be housed in four buildings.
Meanwhile, the Cotabato Electric Cooperative has committed to shoulder the cost for the electrical installations that will be used for the operation of F2F classes.
The BES was among the most damaged government infrastructures in this town following the series of tremors that hit North Cotabato in October 2019.
Arbis said the NCSB has chosen a school at the Bato village because no cases of the coronavirus disease 2019 have been reported in the barangay ever since the start of the pandemic last year.
"We passed the school's safety assessment tool which is the basis of being selected as one of the few pilot schools in the country to run the F2F classes this year," she said. (PNA)