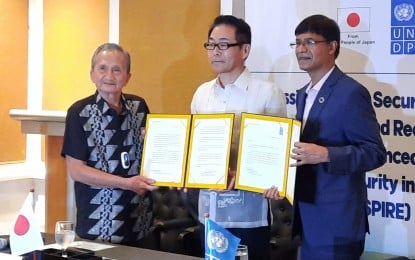 MANILA – Japan is providing USD5 million or approximately PHP285 million to help address the sporadic conflicts caused by the use of private small arms and light weapons (SALWs) in the Bangsamoro Autonomous Region in Muslim Mindanao (BARMM).
The project called the Assistance for Security, Peace, Integration and Recovery for Advanced Human Security in BARMM (ASPIRE), to be implemented by the United Nations Development Programme (UNDP) in the Philippines, would provide technical support to manage and reduce SALWs in the region.
"Transitional security is one of the most critical issues in the implementation of any peace agreement. The decommissioning of former combatants and gradual reduction of loose firearms are volatile periods in a transition," said UNDP Philippines Resident Representative Selva Ramachandran on Tuesday.
"UNDP has received confirmation from both the peace panels that an effective SALW program, with the accelerated provision of socio-economic support, will help in decommissioning and for the wider normalization process to move forward urgently and effectively," he added.
The project would also provide livelihood support to former combatants and private armed group (PAG) members in the region, and raise awareness among communities on the dangers of possession of small arms.
During the signing and exchange of notes, Japanese Ambassador Kazuhiko Koshikawa said Tokyo would continue supporting the peace process and further development in Mindanao.
"Recognizing that the issue of SALWs has become a serious threat to the Peace Process, the Joint Normalization Committee (JNC) requested the Government of Japan for support in tackling this issue," he said.
"As this project will be a remarkable step for the normalization, as the first large-scale and comprehensive project to tackle the issue of private SALWs, I am grateful that Japan can support it," he added.
BARMM Chief Minister Ahod Ebrahim, for his part, expressed gratitude to the Japanese government, saying he considers the initiative a "huge leap towards normalization".
"The project ASPIRE is a significant and relevant initiative to augment, improve and strengthen the existing government policies of the Bangsamoro Government towards normalization which is too crucial yet fulfilling when successfully implemented," he said in a message read by Bangsamoro Transition Authority member Ali Salik.