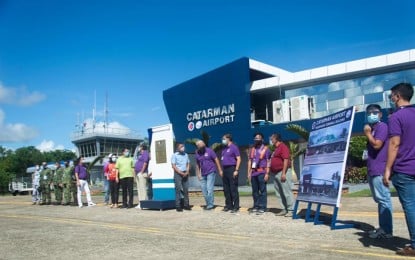 TACLOBAN CITY – Officials of Northern Samar province are thankful for the upgrading of the Catarman Airport, which can now accommodate more aircraft and passengers.
The expanded terminal building can now take in up to 150 passengers or 50,000 passengers annually while the airport can accommodate two turboprop aircraft at the same time.
"These air transport improvements will encourage more tourists to visit Northern Samar, as well as enhance the government's response capabilities during calamities," Northern Samar Vice Governor Gary Lavin said on Thursday.
Northern Samar 1st District Rep. Paul Daza said the completion of the airport improvement would contribute to the economic growth of the province.
"We are honored that (Transportation) Secretary (Arthur) Tugade pushed for the completion of these development projects of the Catarman Airport. While some repairs may have been initiated years before, they were already damaged by typhoons," Daza said during the inauguration, which was led by Tugade on Thursday.
In his message, Tugade said the airport's development is in line with the national government's thrust to create growth opportunities, especially in areas where they are needed.
"Let us take pride in these development projects and care for them. We are calling for concerted efforts to sustain the government's project in the province," he added.
The PHP114.87 million development projects implemented between 2017 and 2021 include the construction of a passenger terminal building, the expansion of the airport's apron, the construction of a concrete perimeter fence, the construction of another taxiway, asphalt overlay, shoulder grade correction of the runway, the rehabilitation of the passenger terminal building, and the construction of aviation rescue and firefighting station.
Aside from the Catarman Airport, other DOTr projects in the pipeline are seaport improvements in San Isidro, Allen, and San Jose towns.