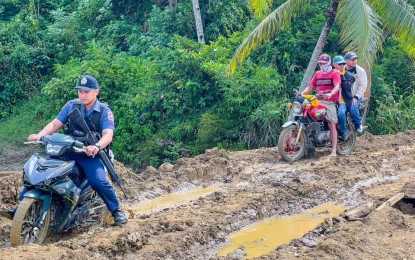 TACLOBAN CITY – At least a PHP10.4 million budget will be poured out to each of the five communities in Palapag, Northern Samar in 2023, the Department of the Interior and Local Government (DILG) said on Wednesday.
The far-flung villages of Mabaras, Bagacay, Osmeña, Jangtud, and Nagbobtac underwent onsite validation from September 14 to 16 concerning their respective proposed priority projects, which will be funded under the Local Government Support Fund-Support to Barangay Development Program (SBDP) for 2023.
"For 2023 SBDP, the beneficiary villages will be granted with PHP10.4-million each to fund infrastructure projects such as farm-to-market roads, water supply system, health stations, school buildings, rural electrification, and non-infrastructure projects such as livelihood programs and technical-vocational trainings and assistance, including equipment," the DILG Northern Samar provincial office said in a statement.
These villages in Palapag were formerly infested by New People's Army and were cleared this year through the retooled community support program led by the military and police.
The Philippine Army's 20th Infantry Battalion reported that the villages of Bagacay and Osmeña were declared free from NPA influence last Aug. 31, 2022 while the Jangtud village is scheduled for validation within the month. The other villages were cleared early this year.
Palapag Mayor Florence Fawa Batula expressed her all-out support in assisting the villages in the realization of these projects with the municipality as implementing agency.
"We may be one of those with highest communist terrorist group affectations in the province, but Palapag is the fastest in clearing out our communities from insurgency," Batula said in a statement.
Located in the northernmost part of Samar Island, Palapag is a 3rd class town in Northern Samar with a population of 34,034. (PNA)