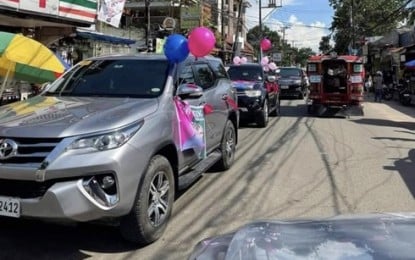 CEBU CITY – A police official here on Tuesday reminded political parties planning to conduct motorcade and caravan activities to limit the number of their participating vehicles to 20 to prevent the spread of coronavirus disease 2019 (Covid-19).
Lt. Col. Wilbert Parilla, Cebu City Police Office deputy director for operations, said in a briefing the guidelines from the Emergency Operations Center (EOC) stated that only 20 vehicles are allowed to join political sorties on the city roads.
Parilla's reminder came after the city government called out the organizer of the "Cebu for Leni" caravan on Saturday for allegedly violating the limit on the number of cars that could participate in the activity.
However, Councilor Joel Garganera, EOC head, said the Cebu City Traffic Office and the EOC believed only 20 vehicles joined the caravan, as he stressed that only that number was allowed by his office due to the current quarantine status in the city.
"I said 20 because that's what we'd agreed upon. I presumed they are compliant. I don't know what they want to prove. It's not about the numbers of cars that participated in the caravan, it's about the compliance of the organizers," he said in a radio interview.
Garganera said his clarification was made to answer questions on whether the motorcade organized by the supporters of Vice President Leni Robredo in Cebu violated the EOC's 20-vehicle rule.
Robredo is running for president in the 2022 elections.
He believed the exchange between Robredo's supporters and the opposite camps on social media forced the organizers to exaggerate the number of cars that joined the caravan.
Amando Virgil Ligutan, a Cebuano lawyer, said he participated in the caravan and claimed he noticed 200 vehicles that joined the activity which started at the Redemptorist Church. (PNA)