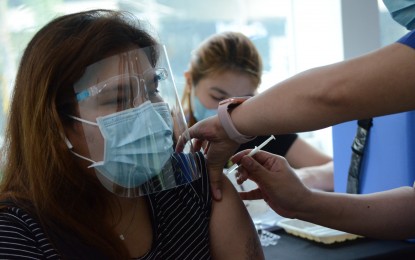 MANILA – The National Task Force Against Covid 19 has approved the request of four regions for additional Covid-19 vaccines for their workers in the manufacturing and construction industries, the Department of Labor and Employment (DOLE) said on Wednesday.
Labor Secretary Silvestre Bello said a total of 452,000 doses of Covid-19 vaccine would be allocated for factory workers in Regions 4-A (Calabarzon), 3 (Central Luzon) and 7 (Central Visayas), and construction workers in the National Capital Region (NCR).
He lauded the move that will speed up the reopening of the economy and boost the protection of workers in the country's manufacturing and construction industries.
"I sincerely thank vaccine czar Secretary Carlito Galvez for his positive and immediate response to our urgent request," Bello said in a statement.
Bello acknowledged the challenges in the supply of vaccines but said it is necessary to allocate a portion of the supply for workers who are actively contributing to the economy.
"We believe doing this would speed up economic recovery," he said.
He added that the recent 11.8 percent growth in the country's gross national product emphasizes the need to inoculate active members of the economy.
"This is particularly true to the manufacturing and construction sectors that contributed much to that growth," Bello said. (PNA)