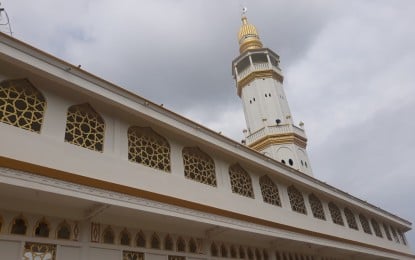 MANILA – The Department of Human Settlements and Urban Development (DHSUD) will launch on Saturday the newly constructed Grand Mosque in Marawi, nearly four years after the government started its rehabilitation of the city razed to the ground when government forces took out the Maute-led terrorist groups.
DHSUD Secretary Eduardo Del Rosario, the Task Force Bangon Marawi (TFBM) chief, said aside from the mosque, a series of projects will also be unveiled.
"This week's events indicate Marawi's continuous return to progress and marks a new chapter of the Islamic city's path to peace and development," he said in a statement on Friday.
"We are all set to show the President what we have achieved so far with regards to the rehabilitation of public infrastructures," del Rosario said, confirming that President Rodrigo Duterte will grace the ceremony that will also showcase the progress of the rehabilitation of public infrastructures.
The Raya Madaya Barangay Complex, the sixth village facility to be rolled out inside the Most Affected Area (MAA) this year, will also be inaugurated.
The reconstruction of Disomangcop Mosque, Masjid Darussalam, Marinaut Masjid, and White Mosque in the MAA was finished earlier.
Other events on Saturday are the groundbreaking ceremony of a Department of Information and Communications Technology building in Barangay Datu Naga; turnover of permanent shelters in Barangay Gadongan; rollout of a school building; ceremonial handover of school furniture; and inspection of permanent shelters in Barangay Patani.
Soldiers and civilians who were slain in the five-month siege will also be remembered in a wreath-laying ceremony at Kampo Ranao, headquarters of the Philippine Army's 103rd Infantry Brigade.
The Marawi siege broke out around 2 p.m. on May 23, 2017 when military and police forces launched an operation to capture Isnilon Hapilon, the head of the Islamic State forces in the Philippines.
Hapilon and Omar Maute, founder of the Dawlah Islamiyah group, were killed about a week before the war was declared over on October 23.
About 168 soldiers, policemen, and civilians died during the 153-day siege that also displaced thousands. (PNA)