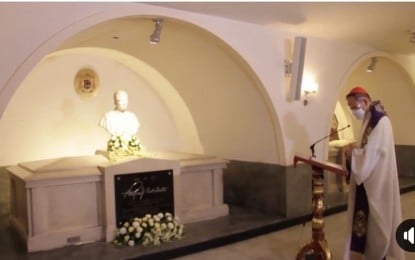 MANILA – Manila Archbishop Jose Cardinal Advincula on Friday paid respects to one of his predecessors, Rufino Cardinal Santos, the first Filipino cardinal.
In a Facebook post on Friday, the Manila Cathedral said Advincula visited the tomb of the late Filipino cardinal as the Church commemorates his 48th death anniversary.
"This morning, His Eminence Jose F. Cardinal Advincula paid his respects and blessed the tomb of his predecessor, Rufino J. Cardinal Santos, as we commemorate today the 48th death anniversary of the first Filipino cardinal, and the man responsible for the rebuilding of the Mother Church of the country after the war," the post added.
Santos was born on August 26, 1908, and hails from Guagua, Pampanga. He was the 29th archbishop to head the Manila archdiocese (1951-1973). He died on September 3, 1973.
The tomb is located at the crypt of the cathedral otherwise known as the Minor Basilica of the Immaculate Conception in Intramuros, Manila.
Last Tuesday, Advincula also visited another predecessor, Jaime Cardinal Sin, honoring the day of his birth and celebrated a Mass for him.
Sin, the 30th archbishop of Manila, was born on August 31, 1928. He was instrumental in the peaceful People Power Revolution in 1986, which ended the Marcos regime and was also a key figure in the 2001 Edsa revolt that toppled the Estrada administration.
He died on June 21, 2005 at the age of 76.
Advincula was installed as the 33rd Archbishop of Manila last June 24, 2021, three months after he was appointed to the post by Pope Francis in March. (PNA)