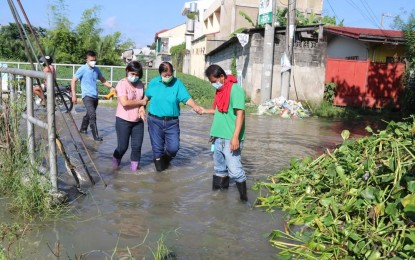 DAGUPAN CITY, Pangasinan – Mayor Belen Fernandez said road elevation and fixing broken or disconnected pipelines in the drainage system here is the way to deal with the perennial problem of flooding brought by high tide and heavy rains.
In a statement Friday, Fernandez said some creeks in the different barangays have become stagnant because of silt, plants, debris, and garbage.
"Flood gates within the city should be properly manned by the City Engineering Office (CEO) and mobile pumping stations must be utilized," she said.
Fernandez has already discussed with the Liga ng mga Barangay the flood mitigation plans that will be implemented in coordination with the Department of Public Works and Highways and the CEO.
The CEO conducted a creek clearing operation in Barangay Pogo Grande this week, she said.
A team from the CEO has removed truckloads of water lily and other aquatic plants, debris, and garbage that had clogged the creek in that area.
Creek clearing in other barangays is also being scheduled while declogging of drainage has started, particularly within the premises of the St. John the Evangelist Cathedral along Burgos Street.
The city uses a Vactron machine to remove water in the central business district generated by high tide, as well as debris that clog drainage canals.
"We also plan to set up sandbags on the drainage holes of the church and monitor the outcome," Fernandez said.
The highest tide on Friday was at 10:48 a.m. at 1.44 meters, and the low tide will be at 7:56 p.m.(PNA)