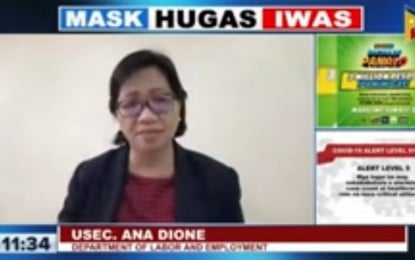 MANILA – Over 1,000 companies were not able to pay the 13th month pay of their workers last year, an official of the Department of Labor and Employment (DOLE) said on Thursday.
"There are about 1,300 establishments that have not paid the 13th month of their workers," Labor Undersecretary Ana Dione said during the Laging Handa briefing.
Dione added they will be issuing compliance orders to these companies.
Meanwhile, she also reported that some 14,000 firms have complied with the mandatory payment of 13th month pay.
"About 90.91 percent of the establishments inspected have complied," Dione said.
Last week, the Department of Trade and Industry said its financing arm, Small Business (SB) Corp., is preparing a loan program to help micro and small businesses provide employees with their 13th month pay.
The DOLE, meanwhile, earlier said it will issue an advisory on the proper computation of 13th month pay for private sector workers amid the coronavirus disease 2019 (Covid-19) pandemic.
This came as many workers have not reported to work while some establishments have either stopped or downgraded operations due to the coronavirus pandemic.
Presidential Decree No. 851 states that workers should get their 13th month pay not later than December 24 of every year.
The 13th month pay required by law shall not be less than one-twelfth (1/12) of the total basic salary earned by an employee within a calendar year. (PNA)