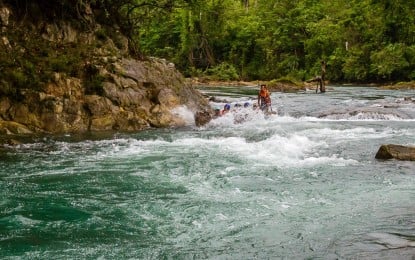 TACLOBAN CITY – The House of Representatives has approved three legislative proposals declaring key tourist attractions in Samar as eco-tourism destinations.
Samar 2nd District Rep. Sharee Ann Tan said on Wednesday the bills have been approved by House members in the third and final reading on August 25 and transmitted to the Senate.
The three House-approved measures seek to develop and preserve as well provide funds for Ulot River in Paranas town (House Bill 9586), Lulugayan Falls and Ecovillage in Calbiga town (HB 9825), and Sohoton Caves and Natural Bridge in Basey town (HB 9827).
Tan is hopeful that since these bills are already transmitted to the Senate, it will pave the way for the national government to fund and assist the villagers managing these sites.
"The people's organizations manning these three tourism sites are (at) the heart of these projects. The government is here to support, guide, and enable them," Tan said in a social media post.
The bills seek to make the destinations as priorities by the Department of Tourism for promotion and development subject to rules and regulations governing eco-tourism sites.
The Ulot River is the longest in Samar Island, the third largest island in the country. The 90-kilometer river runs from San Jose de Buan town in Samar province and discharges into the Philippine Sea.
An extreme boat ride covering a portion of Ulot River is offered here as an attraction to thrill-seekers.
The Lulugayan Falls is 50 meters in width, making it one of the widest waterfalls in the country with its highest drop of about 30 meters. It is also called as mini-Niagara Falls of Samar.
The water that flows at the falls starts at Lake Kalidongan that has over 100 water cascades on its 14 kilometers rapids before it reaches Lulugayan and drains in Calbiga River.
The Sohoton Caves and Natural Bridge Park in Basey town is a protected natural area of about 841 hectares, and a tourist attraction within the Samar Island Natural Park that features caves, subterranean rivers, waterfalls, limestone formations, thick forest, and a natural stone bridge.
The sites are within the Samar Island Natural Park, the largest contiguous tract of old-growth forest in the Philippines and also the country's largest terrestrial protected area with an area of 333,300 hectares. (PNA)