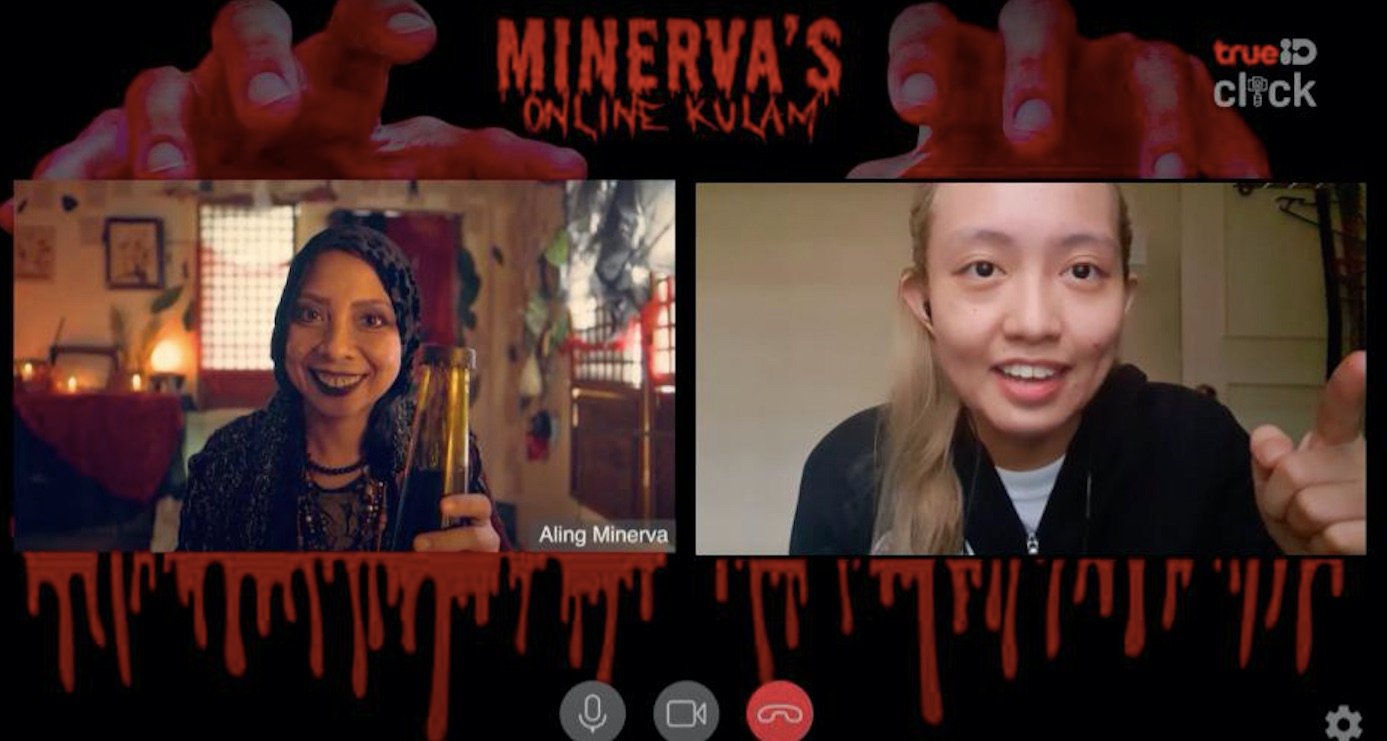 "Sulat lang nang sulat tapos one day, [balikan mo kung ano ang pwedeng gamitin]. Sulat ka lang ng content and kapag it's your time, it's your time."
Kulam is deeply ingrained in Filipino mythology and culture. This form of folk magic is widely known for luring the sawi with love potions and striking fear with barangs or revenge spells.
Some of us have heard tales involving the friend-of-a-friend requesting a kulam or bearing the brunt of it. And as the age-old practice continues to get passed down from generations, we can't help wondering how it will thrive in the modern era where technology is its own form of witchcraft and wizardry.
To quote from a popular meme, we then ask, "Why not both?" What if said mangkukulam goes digital? Then you get the "modern kulam," a strange and unusual concept conjured up by the brilliant mind of Denise Dar Juan.
Denise came across a viral post online that was warning people against accepting necklaces from strangers on buses, as this was actually a form of kulam. She decided to elevate the idea, combining both the traditional and technological and recontextualizing it for the new normal. Aling Minerva's Online Kulam revolves around the titular character, who virtually offers occult services with the help of tech-savvy niece Cleverlyn. The mockumentary went on to become one of the winning pitches at the TrueID Click competition.
To discuss more about this comedic concept, Denise sat down for a TrueID Click Hangout session with Mina Montenegro, TrueID's Marketing Officer. They talked about her new show, the mockumentary genre, spooky sightings, and kulam in general. Here are the highlights.
On her extensive production background:
The multimedia arts graduate already had previous experience in professional productions, working with filmmaker Miko Livelo of Blue Bustamante and Tanods fame. Denise considers the director as her mentor in the industry, whom she sought advice from during the making of Online Kulam. The ever-supportive Miko jokingly replies in the comments section, "Sinungaling 'yan," to which Denise immediately retorts with a grin, "Just like my mentor lang po."
(A truly heartwarming interaction!)
On what mockumentaries are all about:
Denise wanted to promote the mockumentary genre to a general audience through her show with TrueID. A play on the documentary film, it aims to parody real-world situations and events in a fictional setting, which makes for some great humor. "Para siyang interview with a mix of narrative and comedy," she further explains. One of her favorite films from the genre is What We Do in the Shadows, which appealed to her love for comedy, horror, and thrillers.
The vampire mockumentary became one of the pegs for the show.
On the spookiest moments from the Aling Minerva shoot:
Denise had a creepy experience while shooting at the venue with books and picture frames suddenly falling down. But the thing that really haunted her was the lingering unpleasant smell that she could not properly describe. She makes an attempt to do so anyway, "Alam mo yung uuwi ka ng 10:00pm [pre-pandemic] tapos nasa bus ka [at] no choice ka sa katabi mo? Ganon." But she confirms that it's much worse, as she proceeds to mimic a balancing scale to illustrate her point.
On keeping tabs on your ideas:
Denise loves creating content since she sees it as a freedom of expression."I think of it as communication through visuals," she says. For fellow aspirants, she suggests making a list of every idea that comes to mind, "...brain farts lang," she adds.
She explains further that this prevents you from accidentally letting go of a potentially great concept, "Diba madalas din na sinasabi mo na, 'Uy, naisip ko yan but sayang 'di ko ginawa!'"
No matter how crazy or improbable, you never know when the right time would come to execute it, like how Online Kulam became ideal for the lockdown.
On the popularity of kulam:
During the livestream, questions came pouring in inquiring how kulam can help them find a jowa. "Pwede ninyong i-PM si Aling Minerva," she answers with a laugh. Yes, there is an actual Facebook page that exists. She adds, "Actually, contact mo si Cleverlyn. Sasagot agad yan!"
These comments, though made in jest, explains the draw of folk magic, as Denise explains, "Kaya tinatangkilik ang kulam, ay dahil naghahanap lamang sila ng madaliang tulong na hindi maibibigay ng kung [sinuman]."
When asked how she would use kulam to solve a problem, Denise answers while doing a magical hand wave, "Gagawa ako ng potion na ipapahid ko lang sa laptop ko [para bumilis] na Internet ko."
She then looks straight at the camera while pointing at the lovelorn audience, "Kung gusto mo magka-jowa, hindi gayuma ang sagot. Ikaw lang sapat na!"
"Joke," she adds breaking into laughter.
Intrigued? Well, before you PM Aling Minerva, you might want to watch this cautionary tale first.
Aling Minerva's Online Kulam Pilot Episode