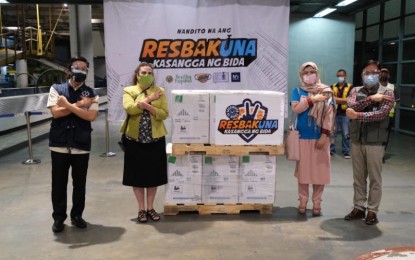 MANILA – With surging cases and stronger variants of the coronavirus, Filipinos are urged to take an active part in the vaccination efforts of the government.
Malalay Ahmadzai, chief of Health and Nutrition of the United Nations Children's Fund (UNICEF) Philippines, said they recognize the Philippine government's efforts to procure vaccines to achieve population protection.
"It is very important for the Filipinos to skip being hesitant because these are safe and the only way we can go back to normal is when everybody is safe," Ahmadzai said in an interview on Thursday night during the reception ceremony for 188,370 Pfizer vaccine doses at the Ninoy Aquino International Airport (NAIA) in Pasay City.
Immunization is everyone's responsibility, Ahmadzai said in a previous statement.
"We have a historic opportunity to both end this pandemic and set out a pathway for the eradication of preventable disease among children and adolescents. But this requires a collective effort to community with vaccines and health services, continue taking key preventative measures, and have confidence in the life-saving power of vaccines," she said.
Assistant Secretary Wilben Mayor of the Office of the Presidential Adviser on the Peace Process said the latest batch of the US-made vaccine will be scattered to municipalities that have not received the Pfizer jabs before.
"We can train these areas, towns that have not received Pfizer vaccines before. This September and October, we have a lot of Pfizer vaccines coming in. When the bulk of these will come, these recipient areas are already trained on how to properly store and administer these," he said.

National Task Force (NTF) Against Covid-19 chief Secretary Carlito Galvez Jr., in an interview with a news channel on Thursday, said they have started to negotiate with four manufacturers that produce booster shots.
He said the shots will be initially allocated to the A1 priority group, composed of medical front-liners and health care workers.
"We are waiting for the recommendation and evaluation of the NITAG (National Immunization Technical Advisory Group) as well as from the World Health Organization on the need for booster shots in the country," he said. (PNA)