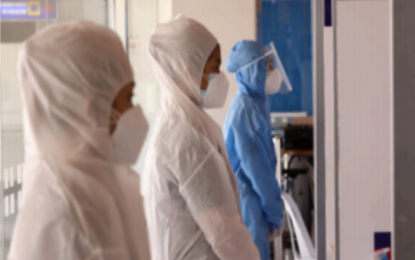 MANILA – President Rodrigo Duterte on Thursday attributed the recoveries of over 1.8 million Filipinos who have acquired the coronavirus disease 2019 (Covid-19) to Health Secretary Francisco Duque III and to health professionals.
While he acknowledged that the total Covid-19 case count in the country has already reached more than 2 million mark, Duterte said the number of people recovering from the coronavirus is a "very good" indication that Duque and medical workers are exhausting all efforts to beat the pandemic.
"Now, the Philippines has breached the 2 million mark in Covid cases," Duterte said in his prerecorded Talk to the People. "However, ang konswelo natin (what gives us comfort) is that 1.8 million of these have recovered. So meron na lang 200 na wala (So, only 200,000 people have not recovered yet)."
Duterte once again heaped praises on Duque even after the Health chief is currently under fire for the supposed mismanagement of the Covid-19 pandemic response funds.
Despite the growing clamor for Duque's resignation, Duterte believed the embattled Health secretary should be commended for his efforts to fight Covid-19.
"And that (number of Covid-19 recoveries) is a very good reflection of what our health people are doing. And I would like also to commend Secretary Duque for that."
The Philippines on Thursday reported 16,621 new Covid-19 infections, bringing the total tally to 2,020,484.
Around 1,840,294 coronavirus-infected individuals have recovered, while 33,680 others have died.
There are still 16,621 active Covid-19 cases in the country.
Get fully-vax 'in a hurry,' Pinoys told
Amid the rise in Covid-19 infections, Duterte reminded the public anew that getting vaccinated is the best weapon to protect them from the coronavirus.
He also urged the vaccinated Filipinos to get the second dose "as fast as [they] can."
"Alam mo, ang (You know, the vaccination really is what we can offer you to fight Covid-19. Walang iba (There's no other way). There's no other defense against the microbe," Duterte said. "For those who would need the second vaccination, kindly do it also in a hurry."
As of Wednesday, a total of 34,112,320 Covid-19 vaccine doses have already been administered nationwide.
Around 14,109,916 individuals have already been fully vaccinated, while 20,002,404 have yet to receive the second dose of the vaccine. (PNA)