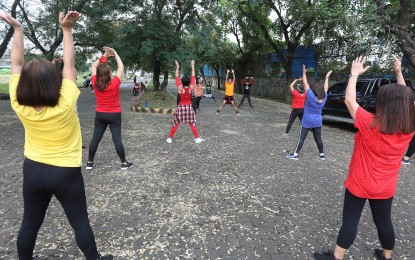 MANILA – Philippine National Police (PNP) chief Gen. Guillermo Eleazar on Sunday instructed all police commanders to coordinate with the local government units (LGUs) in Metro Manila to ensure the proper implementation of the outside exercise protocols.
"I have tasked police offices and units in Metro Manila to immediately coordinate with local government units to determine regulations to be imposed in connection with outdoor exercises," Eleazar said in a statement.
Eleazar said Metro Manila Development Authority (MMDA) chairman Benhur Abalos said LGUs could set limitations on the movement of persons or set specific time periods for outdoor exercises.
The MMDA lifted ban on outdoor exercises after the National Capital Region has been downgraded from the most restrictive enhanced community quarantine (ECQ) to modified ECQ from Aug. 21 to 31.
Outdoor exercises, however, will be allowed only from 6 a.m. to 9 a.m., according to the MMDA resolution.
Although outdoor fitness activities have been allowed, mayors were given the discretion to impose limitations in their localities to curb Covid-19 transmission.
Eleazar said police personnel should be fully aware of every LGU's regulations so there would be no confusion on their enforcement.
He said all minimum public health safety standards should still be followed by persons engaging in outdoor exercises with the continuing rise in Covid-19 infections.
Eleazar said the PNP rounded up 149,963 violators during the imposition of ECQ from Aug. 1 to 20 in Metro Manila.
"As Metro Manila moves to less stringent modified enhanced community quarantine today, Aug. 21 to Aug. 31, let us not let relax our guards because the threat of the more transmissible Delta coronavirus variant continuously plague the country," Eleazar said on Saturday. (PNA)