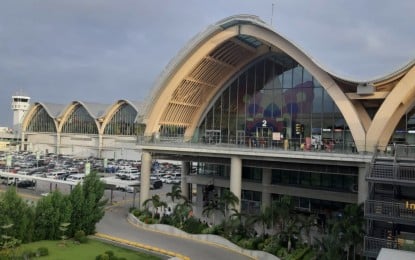 MANILA – Transportation (DOTr) Secretary Arthur Tugade is set to lead the inauguration of Mactan-Cebu International Airport's (MCIA) new corporate building on Thursday.
In a Facebook post, the DOTr said the new corporate building -- with an identical design to the MCIA -- is seen to provide improved services and accessibility to clients as it will have passageways linked to terminal buildings and thus avoid crossing vehicle lanes.
Construction of the building was completed on March 21, 2021, about two years after construction began on March 28, 2019.
"Coinciding with Secretary Tugade's inauguration of the MCIA Authority's corporate building and Command Center is the inspection of the airport's secondary runway, which is expected to be completed in May 2022," the DOTr said.
The Civil Aviation Authority of the Philippines (CAAP), during the event, is set report on the progress and development of airports in Cebu province -- Bantayan Airport in Bantayan Island, Medellin Airport in Medellin, and Camotes Airport in San Francisco.
"The development projects at the MCIA and construction of airports in Cebu strengthen the DOTr's continuous pursuit of providing world-class and reliable service to air passengers and help achieve economic growth and development in Cebu and the whole Central Visayas region," the DOTr said.
On May 6, Tugade inaugurated the MCIA's new taxiway and apron that increased the airport's aircraft parking capacity from 40 to 50 slots and maximized its aircraft movement capacity. (PNA)