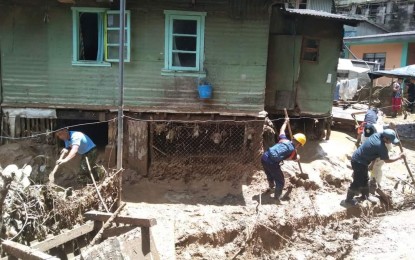 BAGUIO CITY – The Mines and Geosciences Bureau (MGB) said on Wednesday that initial findings showed that the continuous rain in Banaue, Ifugao drenched the soil so much that it was no longer able to hold water, leading to the flash floods that hit the town last week.
"Based on site photographs of the MDRRMO and the ones documented by residents posted on social media, the flash flooding was accompanied by mud and debris thus earthflow was apparent. If indeed that rainfall preceded from July 2 to to 6, interpretatively, oversaturation has occurred within the underlying lithology of the affected area, thus, voluminous surface run-off is expected." said Fay Apil, regional director of the MGB-Cordillera, in a report submitted to the Regional Disaster Risk Reduction Management Council (RDRRMC).
The report said that based on the report from the Philippine Atmospheric, Geophysical and Astronomical Services Administration, 13 of the 18 barangays of Banaue were under a Yellow Rainfall Warning from July 2 to 6 with a rainfall measurement of 100 to 119 millimeters.
"Heavy rainfall apparently proceeded up to July 7 where series of flash flooding and landslide occurred," Apil said.
Dr. Cameron Odsey, regional director of the Department of Agriculture-Cordillera, in an interview on Wednesday said an initial assessment showed that a total of PHP16.68 million worth of rice, corn, and highland crops were damaged in the flash flood.
He said high-value crops sustained the biggest damage at PHP10,111,390; followed by rice at PHP4,548,600; livestock at PHP1,951,000; and corn at PHP76,800.
"We have personnel who traveled to Ifugao to validate the damage," he said.
He said Banaue has a limited production of vegetables and rice, mostly for local trade and consumption, thus will not affect the food supply transported to other parts of the region.
Albert Mogol, Office of Civil Defense-Cordillera director, on Wednesday added that a team from the RDRRMC and the MGB is in Banaue to pursue a thorough assessment of the incident.
"MGB's report is initial and based on information gathered from the local DRRM and the PAGASA and is now a subject of thorough assessment and site inspection," he said.
Mogol called on the public to exercise caution and precaution as the effects of the rainy season could already be felt.
The region, with its mountainous landscape, is prone to landslides caused by rains throughout the year, especially during the monsoon season.(PNA)