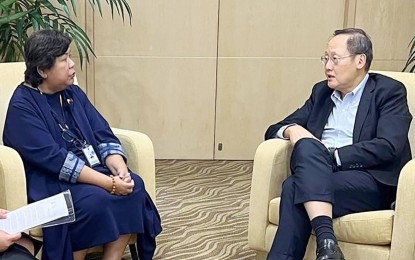 MANILA – The Philippines has lifted the requirements for submission of banker's guarantee and performance bond required from Singaporean employment agencies and employers hiring Filipino domestic workers.
In a statement issued on Wednesday evening, Department of Migrant Workers (DMW) Secretary Susan 'Toots' Ople said the announcement was made during her meeting with the Singapore Manpower Minister Tan See Leng.
"The removal of said requirements was in recognition of the deep and abiding friendship between the Republic of the Philippines and the Republic of Singapore, and was a concrete outcome of the historic first state visit of Philippine President Ferdinand Marcos, Jr. Minister Tan expressed appreciation for the said abolishment and affirmed Singapore's commitment to protecting the well being of all migrant workers in Singapore," the joint press statement between DMW and Ministry of Manpower read.
Ople said both countries separately noted the continued efforts to eliminate human trafficking.
The Philippines and Singapore belong to the Tier 1 List of the 2022 United States Trafficking in Persons Report, which means both countries have undertaken significant efforts to fight human trafficking.
The Philippine Overseas Employment Administration (POEA) Governing Board removed the performance bond levied against Singaporean recruitment agencies and employers specifically for domestic workers.
The requirement for a performance bond was an offshoot of the case of Filipino domestic worker Flor Contemplacion, who was executed in Singapore in 1995.
Ople said the POEA issued a circular that directed Singapore agencies and employers to pay the bond.
The said order was applied only for and to Singapore.
"The Ministry of Manpower (MOM) has a good working relationship with our Philippine Overseas Labor Office (POLO) in Singapore. There never was an occasion for the POLO to garnish the bond in favor of an aggrieved worker in the past because complaints are promptly handled by the MOM which strictly monitors its accredited recruitment agencies," Ople explained.
Meanwhile, Leng described the lifting of the performance bond as "Christmas in September" as Singapore has been lobbying for the past 27 years for its removal.
As of December 2021, there are an estimated 215,155 Filipinos living and working in Singapore.
Of the number, 180,605 are temporary migrants: 81,272 or 45 percent are domestic workers, while the remaining 99,333 or 55 percent belong to the professional sector, highly skilled, and semi-skilled workers categories. (PNA)