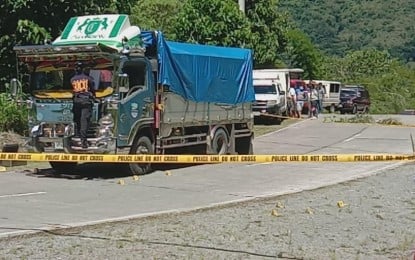 BAGUIO CITY – Two dead bodies were found inside a vegetable truck parked on the road in Cuba, Kapangan, Benguet on Wednesday morning, the police said.
Capt. Marnie Abellanida, information officer of the Police Regional Office Cordillera (PROCor), said based on the initial report submitted to the regional office, the bodies were found inside the truck loaded with sayote (Sechium edule) around 5:30 a.m.
Information gathered by the Kapangan police showed the truck with markings "Kibungan vegetable dealer" bearing plate number WMA 413 left its origin in Sagpat, Kibungan around 4:30 in the morning of Wednesday.
The police officer said the truck was en route to La Trinidad, the capital town of Benguet loaded with sayote vegetables.
He said that according to the report of the Kapangan police, they received information from a concerned citizen about a shooting incident on the road in Barangay Cuba.
Abellanida said a follow-up report received from the Kapangan police identified the two cadavers as Eliterio Sacla Licudan, farmer, 47, resident of Sagpat, Kibungan, Benguet; and Jerick Lidama, married, 25, native of Bindoy, Negros Oriental and presently residing at Sagpat, Kibungan, Benguet.
He said that the son of Licudan arrived at the crime scene and identified his father.
"The local police is doing a follow-up investigation of the incident to identify the killers," he said. (PNA)