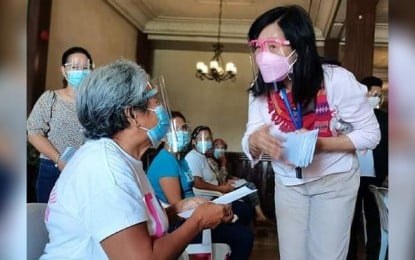 ZAMBOANGA CITY – Some 50 families from different barangays in this city received PHP500,000 cash assistance or PHP10,000 each through the "Sampung Libong Pag-asa" Program of Taguig City Rep. Alan Peter Cayetano.
The recipients received the cash assistance of PHP10,000 per family distributed by Mayor Maria Isabelle Climaco-Salazar and Al Uy, Cayetano's representative, in a simple ceremony at the City Hall lobby on July 21.
Salazar said Thursday the selection of beneficiaries was done by the Office of Cayetano with the help of the city government.
She said the selected beneficiaries are those whose livelihood has been severely affected by the coronavirus disease 2019 (Covid-19) pandemic.
Salazar thanked Cayetano, his wife, Taguig City Mayor Lani, and his sister, Senator Pia Cayetano, for initiating the program that "showcases a key part of Cayetano's economic recovery plan to assist Filipino families with cash assistance to help them purchase their basic needs and revive their sources of income amid the ongoing pandemic."
She urged the recipients of the cash aid to spend the money wisely to help them recover amid the health pandemic.
Meanwhile, Cayetano, in a statement, said the program symbolizes the potential of a PHP10,000 cash aid, not as dole-out, but as an economic stimulus.
He and his allies at the House of Representatives launched the "Sampung Libong Pag-asa" Program on May 1 as they push for the "10K Ayuda Bill", which aims to provide each Filipino family with PHP10,000 cash assistance to buy food, pay for water and electricity, or start a small business.
However, the provision on the distribution of the PHP10,000 cash aid was not included when the Bayanihan to Arise as One Bill (Bayanihan 3) was approved. (PNA)