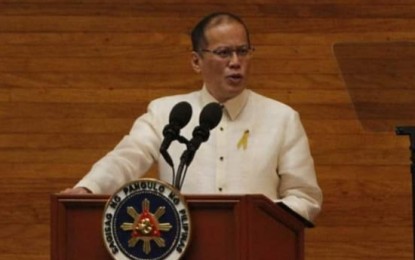 MANILA – Full military honors highlighted by gun salutes will be accorded to the late former President and commander-in-chief, Benigno Simeon 'Noynoy' Aquino III until his inurnment on Saturday, the Armed Forces of the Philippines (AFP) said Thursday night.
AFP spokesperson Marine Maj. Gen. Edgard Arevalo said eight rounds of cannon will be fired in succession for reveille starting 5 a.m. Friday.
"So the next after 6 o'clock reveille, the first, after the eighth round of cannon fire there will be one round of cannon to be fired at 7 o'clock and then every one hour thereafter until the hour of 5 (p.m.) after where there will be another salvo and another round of eight salvos in succession that actually, the eight rounds actually represent the eight provinces that participated in the revolution at that time," he said in an interview with CNN Philippines.
At 10 a.m. Friday, he said all available personnel at AFP General Headquarters in Camp Aguinaldo, Quezon City, and other military units, as well as the cadets of the Philippine Military Academy, Philippine Merchant Marine Academy, and the Philippine Air Force Flying School will assemble and the official notice of the death of former president will be read in their presence.
President Rodrigo Duterte has declared June 24 to July 3 as a Period of National Mourning over the passing of his predecessor.
On Saturday, there will be a 21-gun salute with the guns fired at one-minute intervals, starting when the former president's remains will be moved from the area where the necrological services were held or until the time that he reaches the place of inurnment.
A similar firing of cannons will be observed in other military camps immediately after the inurnment has been completed, he added.
"We are going to make the necessary arrangements to render these protocols and honors and ceremonies befitting a former president. And on the date of interment, available personnel will be lining up the road to provide necessary honors to the president as his funeral is moved from the place where the necrological services were made or were done up to the place where he will be interred," he said.
On Friday, the remains of the former president will be transferred to Ateneo's Church of the Gesu and will be available for public viewing from 10 a.m. to 10 p.m. Masses will be held at 5 p.m. and 8 p.m.
TV host and actress Kris Aquino, sister of the former president, said the inurnment will be held on Saturday beside the tombs of their parents, former senator Benigno Aquino Jr. and former President Corazon Aquino at the Manila Memorial Park in Parañaque City.
On Thursday, the former president was pronounced dead at 6:30 a.m. due to renal disease secondary to diabetes. (PNA)