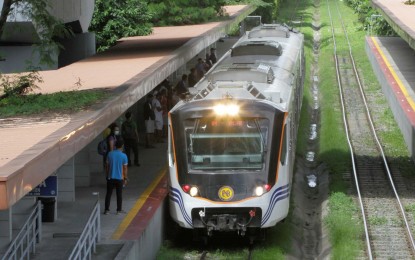 MANILA – The completion of the first two segments of the massive North-South Commuter Railway (NSCR) project is on track, as Department of Transportation (DOTr) Secretary Arthur Tugade pushes to fast-track the construction of big-ticket railway infrastructure projects to meet their target start of operations.
"We have a lot of catching up to do with so little time left. Itong proyekto na ito, gusto ko, agad 'yang mapakinabangan ng tao (I want the people to make use of the project soon). That's why I have been pushing, and pressuring the railway sector really hard to fast-track the construction works in the best way possible," Tugade said.
The NSCR's first leg, the PNR Clark Phase 1, which runs from Tutuban, Manila to Malolos, Bulacan, has an overall progress rate of 43 percent and a construction phase rate of 11.78 percent as of Jan. 31, 2021. This was made possible with continuous construction works amid Covid-19 quarantine restrictions.
"Partially operable na po ito by the fourth quarter of 2021 and full operations in the second quarter of 2024," Philippine National Railways General Manager Junn Magno said during the DOTr railway sector press briefing last month.
Magno added that the PNR Clark Phase 1 targets to slash travel time between Tutuban and Malolos from 1 hour and 30 minutes to just 35 minutes and increase railway capacity to 330,000 passengers per day.
Meanwhile, PNR Clark Phase 2, which will stretch from Malolos, Bulacan to Clark, Pampanga, has five civil works contract packages signed.
Magno said the project's development is likewise moving notably, with an overall progress rate standing at 27.79 percent as of Jan. 31. In this segment, there are ongoing pre-construction works and site visits. PNR Clark Phase 2 will have its groundbreaking in 2021.
Once completed, travel time between Bulacan and Pampanga will be slashed from the current 1 hour and 30 minutes to just 35 minutes.
Magno said the PNR Clark Phase 2 features the country's first airport express service. This means that travel time from Makati City going to Clark, Pampanga will only be around 55 minutes, compared to more than 2 hours of travel by car.
The 54-kilometer second segment of the NSCR will be partially operational by the second quarter of 2023, while the full operation is targeted by the third quarter of 2024. The segment aims to accommodate 150,000 passengers per day.
Magno said improvements are being done to increase the number of PNR stations, routes, and trains.
In 2017, the rail line serviced only four routes, 24 stations, and seven train sets. Now, the rail line operates in seven routes and 34 stations, with 11 train sets at the end of 2020.
"Itong mga bagong tren natin lalo na 'yung mga bagong dineliver from Indonesia, 'yung diesel hydraulic po natin ay babaybay po 'yan sa baha (These new trains delivered from Indonesia, the diesel-hydraulic, will travel even through flooded areas). Hindi po titigil ang biyahe ng PNR lalo na kung magbaha ang Maynila. Ito lang po 'yung paraan na maitatawid natin ang Maynila kahit po mataas ang tubig baha (It won't stop operations even when it is flooded in Manila. This is the only way we can pass through Manila even when floodwater rises)," Magno said.
The diesel hydraulic locomotives are part of the PNR's re-fleeting strategy in 2018. The new trainsets will serve commuters on the railway's Metro line (Tutuban, Malabon up to Los Baños, Laguna). With the additional DHL trains, the PNR Metro line targets to serve a total of 140,000 passengers daily, double its existing capacity. (PR)