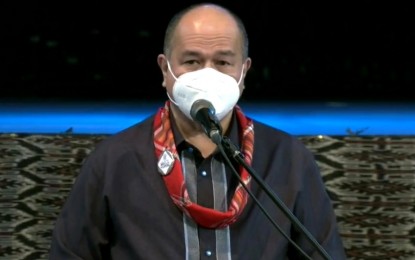 GENERAL SANTOS CITY – The Department of Health (DOH) in Region 12 (Soccsksargen) is set to acquire additional cold storage equipment to further increase its capacity to absorb coronavirus disease 2019 (Covid-19) vaccine supplies from the national government.
Dr. Aristides Concepcion Tan, DOH-Region 12 director, said they are working on the purchase of at least two large freezers that carry more vaccines and handle those with ultra-cold storage requirements.
He disclosed the move in a closed-door meeting here on Tuesday with local government and regional officials of Soccsksargen (South Cotabato, Cotabato, Sultan Kudarat, Sarangani and General Santos City) that was joined by National Task Force against Covid-19 chief implementer and vaccine czar, Secretary Carlito Galvez Jr.
"Hopefully, this can be completed (in) the soonest possible time," he said in an audio recording of the meeting obtained by the Philippine News Agency.
The DOH-12's cold chain facility, which is situated at the regional office in Cotabato City, can accommodate at least 400,000 doses as of the moment, he said.
Tan said they are coordinating with the local government units (LGUs) in the region for the upgrading of their cold chain facilities, as well to accommodate other vaccine brands that require lower temperature storage.
During the meeting, Galvez urged LGUs to invest in increasing their cold storage capacities and especially acquire vertical freezers that can handle temperature requirements of at least -20 degrees Celsius.
He said they can put up refrigerated buildings that have larger capacities like those in some hospitals.
It will allow them to absorb more vaccines and get a share of the upcoming deliveries of Moderna, Pfizer-BioNTech, and Sputnik V brands, he said.
Galvez said the coming vaccine deliveries included 3 million doses of Moderna and expected supplies by the fourth quarter of the year will mainly compose 30 million doses of Pfizer.
"We can directly deliver to LGUs that can handle these vaccines. But those with limited cold chain capacity will not get them," he added.
For the DOH-12, Galvez said it should have the capacity to handle at least 700,000 to a million vaccines like in some other regions.
He said this city and the regional center in Koronadal City should have cold chain facilities that can accommodate at least 500,000 doses at one time.
South Cotabato Gov. Reynaldo Tamayo Jr. said some local companies have already signified willingness to lend their cold chain equipment for vaccine storage.