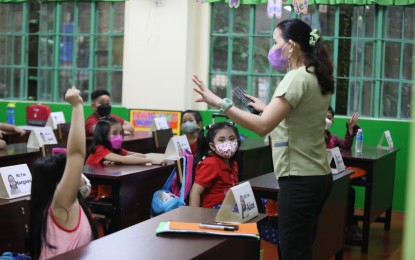 MANILA – The Philippines Business for Education (PBEd) has called on Congress to provide a sufficient budget to education agencies to address the country's learning gap that has been worsened by the pandemic.
PBEd said the country's proposed budget for basic education is still below the global standard of 6 percent of gross domestic product (GDP).
In the past, the government allotted 3 percent of gross domestic product (GDP) to the education sector.
The Marcos administration increased the budget to 4.3 percent of GDP for next year.
"Much is at stake, and we cannot address our learning losses without sufficient resources. The government must also equip our teachers with the right skills and training and focus on programs that are student-centered," PBED's executive director Lovelaine Basillote said in a statement Thursday.
PBEd has been emphasizing the need to immediately address the country's learning crisis, such as access to education, the quality of education, and low learning outcomes due to language of instruction and "low teacher quality".
Citing the recent World Bank report, PBEd said the Philippines has the highest level of learning poverty in East Asia and Pacific as nine out of 10 Filipino children aged 10 are still struggling to read simple texts.
"All hands must be on deck to help bring the country out of this crisis. The government must act quickly and invest not only in quality basic education but also in nutrition and life-long opportunities. The private sector and organizations such as PBEd can help bridge the gaps and provide the government the needed support in order to improve our education system," Basillote said.
Phinma Inc. president Ramon del Rosario, Far Eastern University chairman Aurelio Montinola III, Cavitex Holdings Incorporated president and chief executive officer Edgar Chua, and PHINMA Education president Dr. Chito Salazar.(PNA)