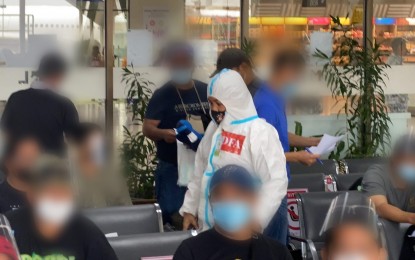 MANILA – Thirty-five Filipinos who were evacuated from panic-gripped Afghanistan have arrived in the Philippines, the Department of Foreign Affairs (DFA) reported Tuesday.
The 35 were flown to Doha by their respective companies and joined a DFA-chartered flight to Manila three days after the Philippine government ordered mandatory repatriation in the country.
The plane, also carrying 203 distressed Filipinos from Qatar, arrived at the Ninoy Aquino International Airport Terminal 1 on Tuesday afternoon.
Based on DFA's latest estimate, at least 97 Filipinos are still waiting to be flown out of Kabul, the only feasible exit route in the South Asian state.
Foreign Affairs Assistant Secretary Eduardo Meñez assured that the DFA is "working non-stop" to extricate remaining Filipinos amid uncertainty in the security situation after Kabul fell to Taliban fighters on August 15.
The repatriates received USD200 financial assistance from the Philippine government and upon arrival, underwent the appropriate medical protocols as required by the Department of Health-Bureau of Quarantine.
"In line with the commitment of the DFA to protect the welfare and well-being of Filipinos overseas, we welcome home 238 distressed OFWs, who have sought repatriation assistance from the Department. The DFA acted decisively and brought them home" DFA Undersecretary for Migrant Workers' Affairs Sarah Lou Arriola said. (PNA)