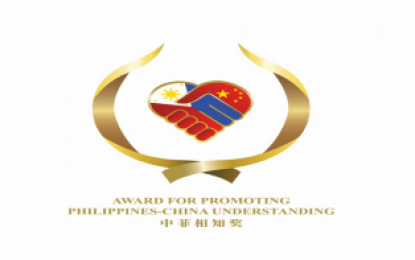 MANILA – Ten individuals, including Imelda Marcos, the wife of late former President Ferdinand Marcos, were named laureates of the Award for Promoting Philippines-China Understanding (APPCU) for 2021.
The ten were recognized for their efforts through time in "strengthening friendly ties and promoting mutual understanding" between the two nations through their advocacies and expertise in the various fields and disciplines of mass media and public service; trade and commerce; and arts, culture, and the sciences.
The awards will be given in a ceremony on August 6 by the Association for Philippines-China Understanding (APCU) and the Chinese Embassy in Manila.
There are three categories for the award --the Hall of Fame, the Outstanding Contributions, and Major Contributions.
Marcos was listed in the Hall of Fame, which acknowledges "the prestige and stature of the individual, and the immense effort of work" he/she has done over time.
The nine other awardees are:
- Former special envoy of the Philippines to China and Philippine Silkroad International Chamber of Commerce Chairman, Ambassador Francis Chua (Hall of Fame)
- Philippine Association for Chinese Studies (PACS) President Dr. Rommel Banlaoi (Outstanding Contributions)
- Global Talk News Radio and "Ang Maestro" Host Herman "Ka Mentong" Laurel (Outstanding Contributions)
- Kaisa Para Sa Kaunlaran, Inc. Founder, Teresita Ang-See (Outstanding Contributions)
- Confucius Institute at UP Diliman Director Dr. Lourdes Tanhueco-Nepomuceno (Outstanding Contributions)
- Founding President of Peking University Overseas Students' Alumni Association Prof. Jaime FlorCruz (Major Contributions)
- University of San Agustin's College of Liberal Arts professor Dr. Mario Leonardo Emilio Aportadera (Major Contributions)
- President and Editor-In- Chief of Sovereignph.com Adolfo "Ado" Paglinawan (Major Contributions )
- 51Talk Brand Ambassador John Nicolo Fernandez (Major Contributions)
The Outstanding Contributions category recognizes individuals who made notable contributions in promoting and strengthening Philippines-China bilateral relations, friendship, cooperation, and understanding.
The Major Contributions category, on the other hand, acknowledges works that had "reach and impact" on the lives of specific groups or communities at the grassroots level. (PNA)