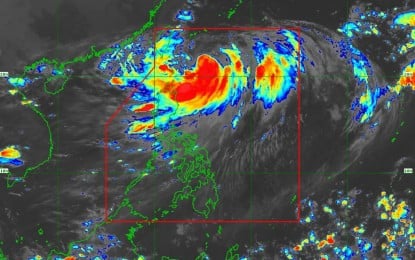 MANILA – The National Disaster Risk Reduction and Management Council (NDRRMC) on Friday said it is verifying reports of a lone fatality recorded in the Cordillera Administrative Region (CAR) that might be attributed to the onslaught of Super Typhoon Henry.
In an update, the agency said it is still getting the details of the incident as well as reports of injuries and missing persons due to the weather disturbance.
Only one house was reported "totally damaged" so far in the CAR. No other damage reports are available so far.
Meanwhile, the NDRRMC earlier ordered its affiliates to prepare for the weather disturbance.
"NDRRMC has issued a general directive to all chairpersons of RDRRMCs/ OCD(Office of Civil Defense) regional directors and a directive to affected regions (projected to be Regions 1, 2, and CAR) to prepare in connection with the current weather system affecting the country. It has also issued a directive for the concerned to: 1. Monitor closely the warning and other advisories issued by DOST-PAGASA, DENR-MGB, and other surveillance agencies; 2. Initiation of Pre-Disaster Risk Assessment at the regional level as needed has been encouraged," NDRRMC spokesperson and Office of Civil Defense (OCD) Assistant Secretary Bernardo Rafaelito Alejandro IV said.
He also added that strengthening risk communication and localizing the warning to communities within respective areas of responsibility have been advised.
Q3 quake drill
Meanwhile, the NDRRMC, through the OCD, announced that it will hold the third quarter Nationwide Simultaneous Earthquake Drill (NSED) face-to-face on Sept. 8 at 9 a.m. at the Ayala Property Management Corporation Headquarters, Makati City.
This will be live-streamed via Civil Defense PH and NDRRMC Facebook pages. Stakeholders are encouraged to launch drills simultaneously in support of the NSED while strictly observing minimum public health standards.
The NDRRMC also called on academic institutions, businesses, private and government offices to ensure compliance with minimum public health standards while doing the evacuation drills.
It also clarifies that offices may opt not to do evacuation drills if the circumstances do not permit it.
"While we will start holding a face-to-face NSED in Makati and we encourage the conduct of an evacuation drill after the usual 'Duck, Cover and Hold', we clarify that the conduct of an evacuation drill is not mandatory. This is up to the discretion of institutions and offices that will assess the situation as to whether it is possible to hold it. If not, just like what they did in the past NSEDs amid the pandemic, they can watch the livestream of the ceremonial pressing of the button and just do the 'Duck, Cover, and Hold' drill," it added. (PNA)