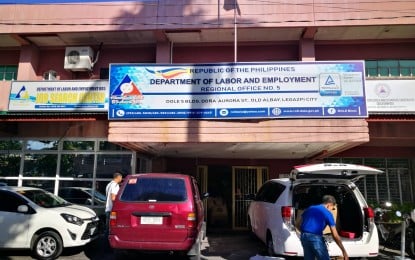 LEGAZPI CITY – At least 62 youths here have completed the Department of Labor and Employment-Bicol's (DOLE-5) 10-day JobStart Philippines Program's Life Skills Training (JSP LST) that gives them more opportunities and enhances their employability through full-cycle employment facilitation services.
Johana Vi Gasga, DOLE-5 spokesperson, on Tuesday said JSP LST was the first of the three-phase full-cycle employment facilitation services that significantly increase young workers' employability by reducing their job-search period through training.
"Under the LST, personal competencies, work habits, job hunting, financial literacy, health and well-being, and networking are cultivated through the use of 37 training modules to prepare JobStart trainees in their quest for skills and job matching," she said in a statement.
Gasga said the trainees formally graduated in a ceremony at the Proxy Hotel here last Sept. 14.
The event was graced by DOLE-5 Regional Director Ma. Zenaida Angara-Campita, who awarded the certificates of recognition to the top LST finishers.
"Certificates of completion were also received by 61 life skills trainees for their perfect attendance. Each completer will be given training and internet allowance in the amount of ₱HP3,200. Our director also encouraged the graduates to complete the three cycles of the JobStart Program: (1) the LST, (2) technical training, and (3) internship," Gasga said.
(PNA)