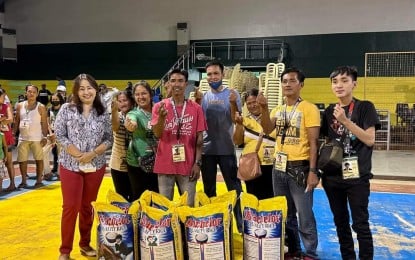 CALASIAO, Pangasinan – The mayor of this town has donated her six months worth of salary to provide rice assistance to all the municipal employees.
On her Facebook page on Thursday, Mamilyn Agustin Caramat said this is her gift to the hardworking employees.
Each of the 680 employees will receive a sack of 50 kilos of rice.
Of the total number of employees, 285 are job order workers, 184 are casual employees, 199 are regular employees and 12 elected officials.
"All of the employees will receive a sack of rice before Christmas," Caramat said.
In a phone interview on Thursday, Gerald Quinit, one of the employees, thanked the mayor.
"We are so grateful to our mayor for her gift to us," he said.
The town has recently celebrated its grand Puto Festival after a two-year hiatus due to the pandemic and has opened its now famous Dubai Miracle Garden-inspired Christmas village.
The funding for the village was sourced from Caramat's personal fund.
Admission to the Christmas village is free as it is her gift to the residents of Calasiao.
The village showcases the nativity scene. It also has characters such as Elsa and Olaf from Disney's Frozen, Spiderman, Batman, Transformers and of course Santa Claus.