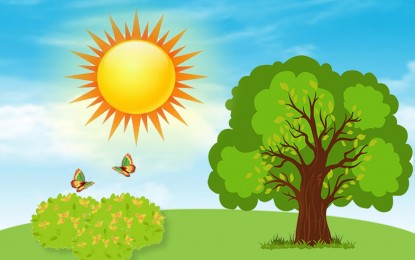 MANILA – Most parts of the country will experience warm and humid weather due to the easterlies, a weather forecaster said Wednesday.
The Philippine Atmospheric, Geophysical and Astronomical Services Administration (PAGASA) forecast partly cloudy to cloudy skies with isolated rain showers or thunderstorms to prevail over the entire archipelago.
"Because of the easterlies, fair weather will be experienced across Luzon and it will be warm and humid in the afternoon," said Benison Estareja of PAGASA.
Localized thunderstorms lasting for one to two hours will be experienced in the afternoon and evening, he added.
Cagayan will have a temperature of 35°C, while up to 32°C is expected over Metro Manila.
"Almost (the) same scenario is forecasted over the Visayas and Mindanao. Warm and humid weather will be experienced in the afternoon. Isolated rains are also likely, especially in the central portion of Mindanao," Estareja said.
Light to moderate winds and slight to moderate seas will continue to prevail over the whole country.
Meanwhile, Estareja said PAGASA is monitoring a cloud cluster east of the Visayas.
"This may develop into a low-pressure area anytime and may enter the Philippine Area of Responsibility by Thursday," he said.
Estareja said there is a huge possibility it would develop into a tropical depression but is unlikely to make landfall and affect any part of the country. (PNA)